Kerf frames are your best defense against rising energy costs!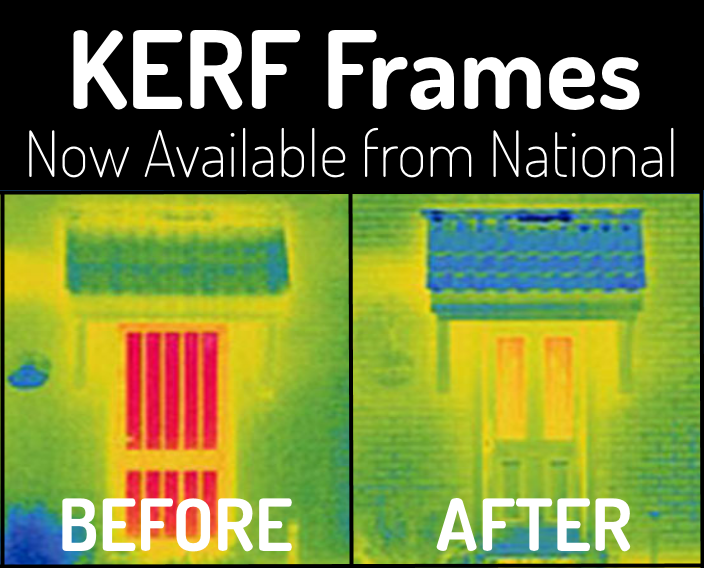 Utility companies operate as legal monopolies and routinely subject their customers to rate hikes. Business owners are already under pressure to run profitable operations, and their customers suffer each time they're forced to pay higher prices to pay for the additional overhead. The only surefire way to lower your energy costs is to reduce your consumption, and National Custom Hollow Metal offers custom-built two-part kerf frames that can help you lower your energy costs.
Adhesive or screw-on weather stripping is difficult to install and replace, and it loses its ability to form a tight seal around doors over time. Even a small amount of thermal exchange from the outdoors adds up over time, which is why we're proud to offer kerf frames built to your specifications! Our kerf frames feature a 3/32" gap that holds our Elon 490 kerf foam weather stripping, and it doesn't require any special tools to install. You can order weatherstripping from us any time your weatherstripping deteriorates, and you can replace it in minutes.
Like all of our products, we custom-build kerf frames to your specifications after you place your order. We most typically configure our kerf frames to fit 3068, 3070, or 3080 openings, but we can also manufacture doors and frames in custom sizes to your specifications. The jambs are configured to a 5 ¼" minimum depth for a 1 ¾" door or a 4 ⅞" minimum depth for a 1 ⅜" door, up to a maximum depth of 20". Our kerf frames can be built from 16, or 14-gauge 304 or 316 stainless steel or A-60 or G-90 galvanneal steel.
Kerf frames are a great way to lower your energy bills without sacrificing your employees' and customers' comfort, and we can give you a quote in two hours or less. We include free Quik Ship Service with all orders and Hot Rush and Walk Thru service for our distributors who have rapidly-approaching deadlines. The Difference is Quality at NCHM, and we stand behind all our products with a 100% satisfaction guarantee!
If you have any questions or would like to receive a quote in two hours or less, contact us online or dial 800-334-3070. Email us at [email protected].