Custom-Built STC Doors Are a Great Defense Against Noise Pollution!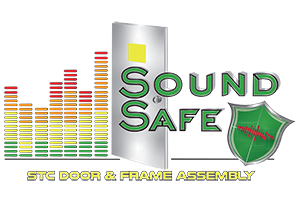 The world we live in can be very noisy! People who live and work in the modern urban environment are routinely exposed to noise from automobiles, trains, and aircraft, not to mention the noise generated from an office full of people using telephones, computers, and copiers. And you can often count on the sound of lawnmowers and construction equipment cranking up as you're beginning an important meeting or a project requiring plenty of concentration. The good news is that National Custom Hollow Metal offers custom-built Sound Transmission Control (STC) doors, and we can give you a free quote in two hours or less!
STC doors are commonly used in recording studios, conference rooms, and auditoriums to block and dampen outside noise. STC doors feature a special acoustic core with advanced noise suppression technology, rated from 20 to 60. A door with an STC rating of 20 effectively minimizes ambient noise in the workplace, and our STC doors have a rating of 51 and can make human voices virtually inaudible. Your performers and lecturers won't be forced to compete with outside noise, and your employees can work without any unnecessary distractions. STC doors are also ideal for boardrooms and meeting rooms, and you can hold confidential conversations and meetings without having to worry about eavesdroppers wandering by.
Our STC doors can be custom-built in any size up to 4' x 8' as a complete installation-ready assembly and can be configured as single or pair entry. They're also corrosion-resistant, and virtually maintenance-free. All you'll ever have to do is occasionally wipe them down with water and your favorite cleaning solution, and they'll look just as good as the day they were delivered!
NCHM has over four decades of experience manufacturing custom-built stainless steel doors and frames, and we offer free Quik Ship service on all orders. We also offer expedited shipping options including Hot Rush and Walk Thru service for distributors with rapidly-approaching deadlines!
If you have questions or want to receive a quote on a STC Door & Frame assembly, contact us online or at 800-334-3070. Email us at [email protected].