Ballistic doors offer maximum protection for your school or business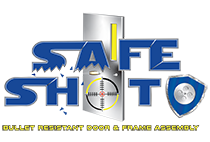 America continues to be plagued with gun violence, and there seems to be no end in sight. Armed individuals continue planning and committing violent ambushes targeting schools, churches, businesses, and government offices, and the only thing the victims have in common is that they were attacked with virtually no advance warning. The average 911 response time is up to ten minutes in most cities, which can be frightening for school leaders and business owners who are obligated to protect their students, employees, and customers. The good news is that National Custom Hollow Metal offers custom-built Safe Shot Level 3 Ballistic Doors and Frames, which can stop a .44 magnum round!
All NCHM products are custom-built to your specifications right here in The USA, and we can give you a quote in two hours or less. You can order ballistic doors in 304 or 316 stainless or A40 or A60 galvanneal steel in all standard sizes, and we can also build your doors in custom sizes ranging from 2'0" x 6'8" to 5'0" x 12'0." Our 12 gauge stainless steel frames also feature a reinforced face strip with lock sets, panic exits, strikes, and concealed hardware that meets UL 752 labeling requirements, and they can be built to a maximum size of 10'0" x 12'0."
No one wants to imagine their school or office will be targeted, but you can't afford to take any chances with the lives of the people who occupy our buildings. In the unlikely event of an attack, you'll enjoy maximum protection as you await first responders. Safe Shot Doors are also corrosion-resistant and maintenance-free. The doors are as beautiful as they are tough, and you'll only need to wipe them down with warm water occasionally to maintain their factory-new appearance!
We offer free Quik Ship service on all NCHM orders and expedited shipping options for our distributors with rapidly-approaching deadlines. When you're ready to receive a quote on Ballistic Doors in two hours or less, contact us online or call us at 800-334-3070. Email us at [email protected].