STC doors help you eliminate noise and maintain a more productive office environment!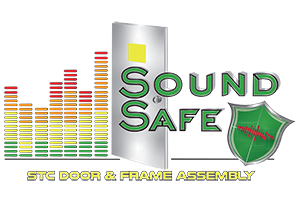 An office can get pretty loud on a busy day, and the noise can distract employees. Some people can work through just about anything, but even the most focused workers benefit from having some quiet time to think! A quiet office that's free from distractions is much more productive, and Sound Transmission Control (STC) doors are a great way to reduce ambient noise in the workplace.
National Custom Hollow Metal has been manufacturing custom stainless steel doors and frames in the USA for over four decades, and we can give you a quote on custom-built STC doors with a maximum STC rating of 51 in two hours or less. Like all of our products, our STC doors are built to order. Our STC doors can be constructed as single or pair entry doors and frames in any size from 3' x 7' to 4' x 8 from your choice of stainless or galvanneal 14 or 16-gauge steel. The doors will be shipped as a complete installation-ready assembly, and we offer Quik Ship service with a standard lead time of three weeks.
Our STC doors feature an acoustic core with state-of-the-art noise suppression technology, and they can make a huge impact on your office's overall noise level. STC ratings measure how much noise suppression capability a door offers, and doors are rated from 20 to 60. Doors with a rating of over 50 can make loud human voices virtually inaudible to people on the other side. Recording studios and music performance halls commonly install STC doors to keep outside noise from disturbing the performance, and business offices use them for executive offices and boardrooms so they can keep closed-door meetings confidential.
At NCHM, The Difference is Quality, and all of our products are manufactured by the most skilled builders in the industry. We offer expedited shipping for our distributors who need to meet rapidly approaching deadlines, and you can always order with confidence because we stand behind our doors and frames with a 100% satisfaction guarantee.
If you have questions or want to receive a quote on a STC Door & Frame assembly, contact us online or at 800-334-3070. Email us at [email protected].