STC Doors are your ticket to a quiet workplace!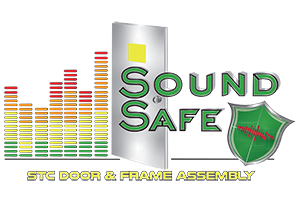 If your office is located in an urban environment, you might believe that dealing with noise pollution is just "the cost of doing business." People who work outdoors or in a busy commercial area learn how to tune out all of the noise over time, but sometimes "silence is golden" in the workplace.
National Custom Hollow Metal has been America's top supplier of custom-built stainless steel doors and frames for over four decades, and we can build Sound Safe sound transmission control (STC) doors with as high as an STC 51 rating to your exact specifications. STC doors and frames all come built as a complete installation-ready assembly, and we can build single or pair entry doors in any size up to 4' x 8' in your choice of stainless or galvanneal 14 or 16-gauge steel.
Our STC doors feature a proprietary acoustic core with advanced noise suppression technology, and it's a great way to control ambient and atmospheric noise in and around your workplace. STC ratings range from 20 to 60, and you can select a noise suppression level suitable for your needs. A door with an STC rating of 20 can control most ambient noise, and a door with a rating of 50 or higher makes human voices virtually inaudible.
STC doors are ideal for spaces where you need to filter out ambient noise. They offer obvious benefits for music recording and performance and are also a great way to keep meetings confidential. You won't be distracted by landscapers, trains, or approaching aircraft during your workday, and eavesdroppers won't hear a thing if you're holding a closed-door meeting!
If you have any questions or want a quote on custom-built STC doors in two hours or less, contact us online or at 800-334-3070. Our orders all include free Quik Ship Service, and we offer expedited shipping options for distributors with tight deadlines. The Difference is Quality at National Custom Hollow Metal, and you can always buy with confidence because your satisfaction is guaranteed! Email us at [email protected].