NCHM Manufactures Ballistic Doors to Keep People Safe!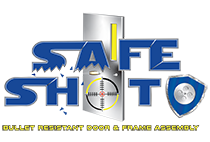 Despite our best efforts to prevent it, gun violence is rampant worldwide. It's not just an American problem or a problem limited to certain parts of our cities. No business, school, or government office is ever truly immune from the risk of a violent ambush. The only thing we can do is create emergency preparedness policies and pray that they're effective when the time comes. Is there anything more we can do to protect our employees and customers?
The answer is yes! National Custom Hollow Metal offers custom-built Safe Shot Level 3 Ballistic Doors and Frames, and they can stop a .44 magnum round! In the unlikely event that your business is ever under assault, they'll huff and puff all they want until the police arrive!
Our ballistic doors can be built to your specifications in your choice of 304 or 316 Stainless, or A60 Galvanneal Steel in all standard sizes, as well as custom sizes ranging from 2'0" x 6'8" to 5'0" x 12'0." Our 12 gauge stainless steel frames can be custom-built to a maximum size of 10'0" x 12'0." Our ballistic doors feature a reinforced face strip with lock sets, panic exits, strikes, and concealed hardware that meets UL 752 labeling requirements.
Our Safe Shot Ballistic doors are corrosion-resistant and as beautiful as they are tough! To maintain their factory-new appearance, you only have to occasionally wipe them down with water. We can give you a custom quote in two hours or less, and all NCHM orders include Quik Ship service at no additional charge. We also offer expedited shipping options for distributors who need to ensure on-time delivery.
Most violent ambushes are over in a matter of seconds, but 911's average response time can be up to ten minutes. Our Safe Shot Ballistic doors offer premium protection at a great price, and they'll help you enjoy peace of mind in an uncertain world. The Difference is Quality at NCHM, and we stand behind all of our products with a 100% satisfaction guarantee!
If you have any questions, or would like to receive a quote on Ballistic Doors in two hours or less, contact us online or give us a call at 800-334-3070. Email us at [email protected].