Combat rising energy costs with kerf door frames!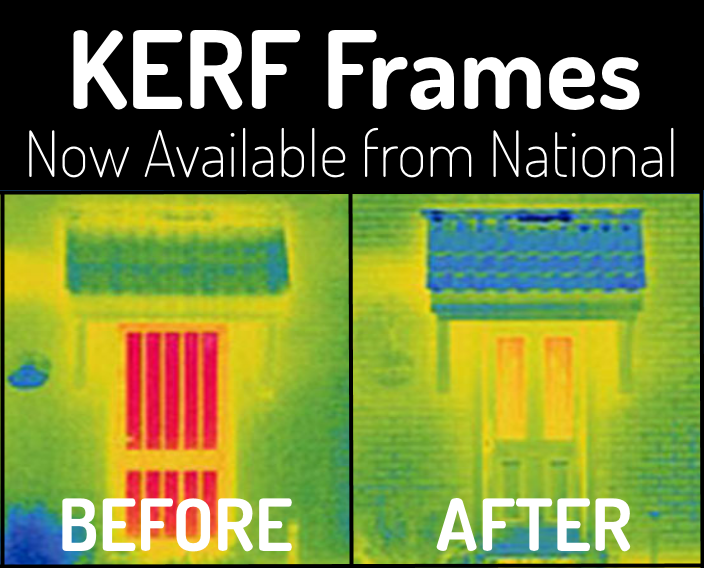 Most children are scolded by their parents for leaving the front door open too long and letting all the air conditioning out. Once we get old enough to pay the bills, it's pretty easy to understand why our parents were so concerned. It's an even bigger problem if you work in a large industrial or commercial environment. Utility costs are always on the rise, and drafty exterior doors can cost you a fortune. That's where we come in! National Custom Hollow Metal is proud to manufacture two-part kerf frames with interchangeable weather-stripping, and we can build them to your exact specifications!
Our kerf frames are most typically configured to fit a 3068, 3070, or 3080 opening, and we can also manufacture doors and frames to order in custom sizes. The jambs are configured to a 5 ¼" minimum depth for a 1 ¾" door, or a 4 ⅞" minimum depth for a 1 ⅜" door, up to a maximum depth of 20". Our kerf frames can be built from 16 or 14 gauge 304 or 316 Stainless steel or A-60 or G-90 Galvanneal Steel. Our custom-built kerf frames also feature a 3/32" gap that holds our proprietary Elon 490 kerf foam weatherstripping.
Weatherstripping is a cheap and easy way to seal up drafts around doors and windows, but it's subject to wear and tear over time. The weatherstripping in our kerf frames can be easily replaced in just a few minutes, and you won't need any tools. It's also inexpensive, and you can order replacement weatherstripping at any time.
All of our products are custom-built to order, and you won't be buying mass-produced doors or frames that sit on pallets in a warehouse for months. We also offer free Quik Ship Service on all orders and expedited shipping options for distributors on tight deadlines. At NCHM, The Difference is Quality, and we guarantee your satisfaction with all of our products!
If you have any questions or would like to receive a quote in two hours or less, contact us online or give us a call at 800-334-3070. Email us at [email protected].