3 great benefits of custom-built STC Doors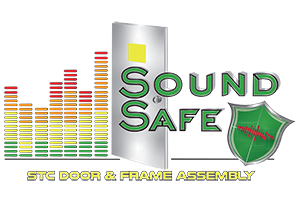 The world has become a much noisier place, and we're surrounded by distractions. The average city-dweller is pretty good at filtering out unimportant sounds over the course of a typical day, but most of us need peace and quiet as we rest and as we work. There's nothing wrong with using a little background music to create some ambient sound, but there's no volume knob or off switch for traffic noise and the sounds of lawnmowers outside. Fortunately, our team at National Custom Hollow Metal is here to help! We can build Sound Transmission Control (STC) doors to your exact specifications and ship them on your schedule.
STC ratings measure a door's noise suppression capabilities, and they range from 20 to 60. A door with an STC rating of 20 can significantly reduce overall workplace noise, but you'll still be able to hear muffled conversations. We manufacture doors with an STC rating of 51, and they have the ability to make human voices virtually inaudible. They feature a proprietary acoustic core with advanced noise suppression technology and can be custom-built in any size up to 4' x 8'.
Improved Acoustics-STC doors are ideal for recording studios and music rehearsal halls. They're also ideal for stage and auditorium doors. Your speakers or performers won't be competing with the noise outside, and the audience won't struggle to hear presenters at meetings.
Reduced Noise Pollution-Some employees are better than others at working in a noisy environment. STC doors can help you create quiet and productive areas where your employees can work free from unnecessary distractions.
Eliminate Eavesdropping-Information is power in the business world, and STC doors are a good way to protect your company's secrets. You can freely make important decisions and discuss confidential information in a secure boardroom, and you'll never have to worry about who's standing outside.
NCHM has over four decades of experience manufacturing custom-built stainless steel doors and frames, and we offer free Quik Ship service on all orders. Our STC doors can be configured as single or pair entry as a complete installation-ready assembly. If you have any questions or would like to receive a quote on STC doors in two hours or less, contact us online or at 800-334-3070.Email us at [email protected].