NCHM builds ballistic doors to your exact specifications!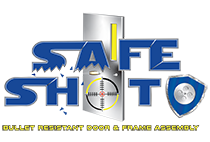 Despite our efforts to prevent it, the specter of gun violence continues to haunt businesses, schools, and government offices throughout the USA. Many incidents involve a disgruntled employee seeking revenge against a supervisor or other employees, but many of the attacks take place at locations that attackers seemingly choose at random. The only thing that all of these incidents seem to have in common is that they involve highly motivated individuals planning quick and violent ambushes that often claim dozens of victims in a matter of minutes (or even seconds).
National Custom Hollow Metal can build custom Safe Shot Level 3 Ballistic Doors and Frames to order, which are capable of stopping a .44 magnum round! The average 911 response time is up to ten minutes in most cities, so you need to have as much protection as possible as you await first responders. Our ballistic doors are all custom-built to your specifications in your choice of 304 or 316 stainless, A40 or A60 galvanneal steel. We can manufacture ballistic doors in all standard sizes, and we can also build your doors in custom sizes ranging from 2'0" x 6'8" to 5'0" x 12'0." Our 12 gauge stainless steel frames can be built to a maximum size of 10'0" x 12'0."
Safe Shot doors also feature a reinforced face strip with lock sets, panic exits, strikes, and concealed hardware that meets UL 752 labeling requirements. But they don't otherwise look that much different from any of our other stainless steel doors, and your business or school won't look like a fortress. Our Safe Shot Ballistic doors are as attractive as they are durable and they're corrosion-resistant. Your doors will keep everyone safe and secure, and they're practically maintenance-free. All you'll need to do is occasionally wipe them down with warm water, and they'll look just as good as the day that they were delivered!
We offer same-day quotes on all our products and can typically return a quote in two hours or less. We also offer Quik Ship service on all orders at no additional charge and expedited shipping options for our customers with tight deadlines.
If you have any questions, or would like to receive a quote on Ballistic Doors in two hours or less, contact us online or give us a call at 800-334-3070. Email us at [email protected].