TrustShield Doors and Frames Keep Your Healthcare Workers Safe!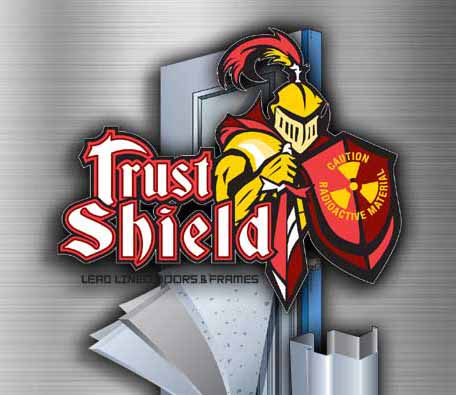 Nuclear diagnostic devices such as X-Rays, CT Scans, and MRIs have revolutionized medicine, and they give doctors the ability to examine their patients thoroughly. X-rays are a very routine procedure used on a daily basis, and MRIs provide a wealth of information without requiring doctors to anesthetize their patients or subject them to unnecessary surgical procedures. Prolonged radiation exposure is harmful to humans, but short-term exposure is justified if it leads to successful treatment outcomes. The technicians who perform the procedures are around radiation every day, and it's important that they're shielded from harmful gamma rays when they do their jobs.
National Custom Hollow Metal offers custom-built TrustShield lead-lined doors and frames for clinics, hospitals, and laboratories. Our TrustShield doors are built to order from 16, 14 or 12 gauge galvanneal or 16, 14 or 12 gauge stainless steel construction. They also include a continuous sheet of lead from 1/32″ thick up to 1/8″ thick, laminated to the door skin and a sheet of high-density polystyrene. The lead sheet extends the full width and height of the door, with the thickness of the lead shielding to be equal to that of the adjacent wall.
At NCHM, The Difference is Quality, and every product that we manufacture is custom-built to your exact specifications. TrustShield doors can be built at 4′ 10 1/2″ x 12'0″ with 1/16″ lead and 4'10'/2″ x 8'0″ with 1/8″ lead, and all doors have continuous 14 gauge channels installed around the perimeter as reinforcement. Trustshield doors can also be manufactured with UL or Warnock-Hersey fire resistance labeling for up to 1-1/2 hours with a maximum thickness of 3/32″. TrustShield doors and frames are corrosion-resistant and practically maintenance-free.
We know that our distributors have tight deadlines, which is why All NCHM orders come with standard Quik Ship service. We subject all of our products to a rigorous multi-point quality inspection before shipping, and they'll be carefully crated to ensure that they're not damaged in transit. We also offer expedited shipping options if you need to ensure on-time delivery.
If you have any questions, or would like to receive a quote in two hours or less, contact us online, or give us a call at 800-334-3070. Email us at [email protected].