DefendDoor Stainless Steel Doors are Built to Last!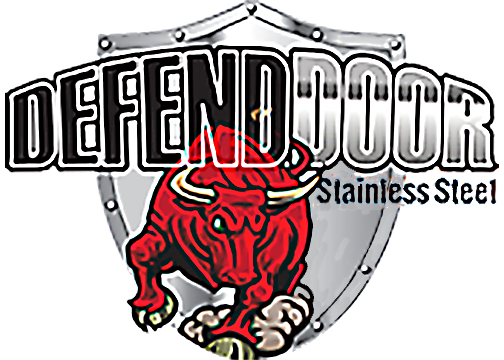 Distributors have been turning to National Custom Hollow Metal for over four decades when they need quality stainless steel doors and frames delivered on their schedule. All of our products are custom-built right here in the USA, and we begin construction after you place your order. We don't mass-produce our products and store them in a warehouse for months, and at NCHM, The Difference Is Quality!
Our DefendDoor stainless steel doors and frames are our most popular product, and we can return a quote in two hours or less. We can build doors to your specifications in any size up to 4′ 10 1/4 wide and 12'0" high in either 304 or 316 #4 finish, and we can build frames up to 10'0" wide and 12'0" high. DefendDoor Doors are available with your choice of polystyrene, honeycomb, or vertically steel stiffened fiberglass insulation-filled cores.
DefendDoor stainless steel doors are internally reinforced with continuous 16-gauge stainless steel rails spanning the entire height of the door on both the hinge and lock stiles and across the doors' top and the bottom, and the complete unit is enclosed with 14-gauge steel and perimeter channels that are spot-welded at 8″ on center to guarantee a finished look. We can also build your doors with 20-minute, 45-minute, 90-minute, and three-hour Warnock-Hersey fire door labeling.
All DefendDoor products are corrosion-resistant and practically maintenance-free. You'll only need to occasionally wipe them down with warm soapy water to maintain their factory-new appearance, and your doors will be as tough as they are beautiful. Like all of our stainless steel products, DefendDoor doors and frames could outlast the buildings in which they're installed!
Every NCHM order includes free Quik Ship service, and you can expect your frames to be shipped in two weeks and your doors to be shipped in three weeks. We also offer expedited shipping options such as Hot Rush and Walk Thru service for distributors with tight deadlines. Let us know when you need your doors and frames delivered, and we'll take care of the rest!
If you have any questions, or would like to receive a quote on doors and frames in two hours or less, contact us online, or give us a call at 800-334-3070. Email us at [email protected].