Is Your Business In a Noisy Area? We Build Custom STC Doors!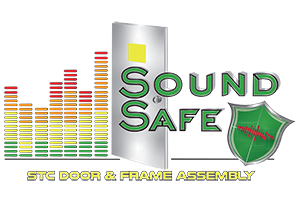 We often hear about efforts to lessen the effects of air pollution and water pollution, but very little about controlling noise pollution. The highway department might install noise barriers near busy intersections and airports are usually built on the outskirts of cities, but that's little help if your office is in a congested area or near train tracks. And let's not forget that landscapers always seem to choose the times when you have an important meeting planned to operate their lawnmowers and leaf blowers!
National Custom Hollow Metal has been America's top supplier of custom-built stainless steel doors and frames for over four decades, and we're proud to offer Sound Transmission Control (STC) doors & frames with up to an STC 51 rating custom-built to your specifications. All of our doors and frames are built to order, and we can return a quote on doors in two hours or less! All of our orders include free Quik Ship Service, and we offer expedited shipping options for distributors with tight deadlines.
STC ratings measure a door's noise suppression capabilities and range from 20 to 60. A door with an STC rating of 20 can make a significant impact on the level of ambient noise in an office environment, and a door with a rating of 50 or more can make human voices virtually inaudible.STC doors are ideal for recording studios, music rehearsal spaces, or any office building that has external noise problems that can't otherwise be controlled. You won't be distracted by outside noise, and you'll never have to worry about eavesdroppers while you're discussing confidential or proprietary information.
Our STC doors feature a proprietary acoustic core with advanced noise suppression technology, and they can be built to order in any size up to 4' x 8' in your choice of stainless or galvanneal 14 or 16-gauge steel. STC doors and frames all come built as a complete installation-ready assembly, and we can build single or pair entry STC doors to your specifications.
If you have any questions or would like to receive a quote on custom-built STC doors in two hours or less, contact us online, or at 800-334-3070. At NCHM The Difference is Quality, and you can always buy with confidence because your satisfaction is guaranteed!