Contact us for a same-day quote on custom-built ballistic doors!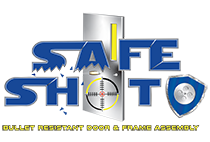 No matter what we try to do to prevent it, gun violence is a problem that plagues our society. Desperate and seemingly harmless individuals continue to engage in premeditated violence and stage deadly assaults at schools, businesses, and churches, and when the smoke clears they leave destruction in their path. The police and first responders in our communities are always ready to spring into action when they're needed, but often can't get there until it's too late! As a business owner, you owe it to yourself, your customers, and your employees to do everything that you can to keep your workplace safe.
National Custom Hollow Metal can custom-build Safe Shot Level 3 Ballistic Doors and Frames to order, which are capable of stopping a .44 magnum round! The average response time for 911 can be up to ten minutes, which can seem like an eternity when you have an armed gunman outside. He can huff and puff all he wants to, but he won't get in!
Our ballistic doors are built to your specifications in your choice of 304 or 316 stainless, or A60 galvanneal steel in all standard sizes, as well as custom sizes ranging from 2'0" x 6'8" to 5'0" x 12'0." Our 12 gauge stainless steel frames can be built to a maximum size of 10'0" x 12'0." Safe Shot doors also feature a reinforced face strip with lock sets, panic exits, strikes, and concealed hardware that meets UL 752 labeling requirements. Our Safe Shot Ballistic doors are also corrosion-resistant, and all you have to do to maintain their factory-new appearance is occasionally wipe them down with soap and water.
We offer Quik Ship service on all orders and expedited shipping options for distributors with tight deadlines. We offer same-day quotes on all of our products, and can typically return a quote in two hours or less. At NCHM The Difference is Quality, and you can always order with confidence because we stand behind all of our products with a 100% satisfaction guarantee.
If you have any questions, or would like to receive a quote on Ballistic Doors in two hours or less, contact us online or give us a call at 800-334-3070.