Kerf frames are a great way to combat rising energy costs!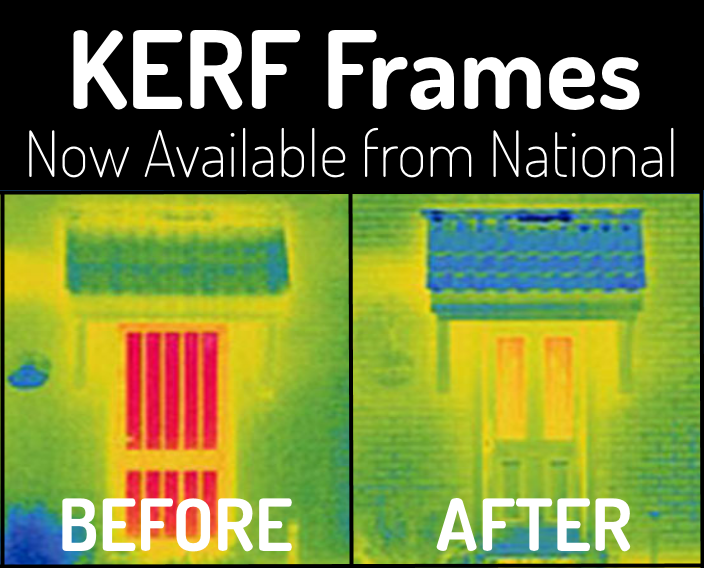 Homeowners and business owners are always at the mercy of the utility companies, and rate increases are the norm rather than the exception. Energy is now bought and sold on the open market as a commodity, and our rates go up constantly as a result of market conditions. The only alternative that we have to fight back is to find ways to reduce our energy consumption.
National Custom Hollow Metal manufactures and sells two part kerf frames with interchangeable weather-stripping built to your specifications! We most typically configure our kerf frames to fit a 3068, 3070, or a 3080 opening, but we can also manufacture doors and frames in custom sizes to your specifications. The jambs are configured to a 5 ¼" minimum depth for a 1 ¾" door, or a 4 ⅞" minimum depth for a 1 ⅜" door, up to a maximum depth of 20". Our kerf frames can be built from 16 or 14 gauge 304 or 316 Stainless steel or A-60 or G-90 Galvanneal Steel.
If you've ever used conventional adhesive or screw-on weather stripping before, you already understand the toll that time can take on its ability to form a tight seal. Standard wear and tear causes your weatherstriping to deteriorate, and it can be a hassle to replace. But our kerf frames feature durable weather stripping that can be replaced in a matter of seconds, and they don't require any special tools. Our custom-built kerf frames feature a 3/32" gap that holds our Elon 490 kerf foam weather-stripping, and you can replace it in seconds when it begins to lose its ability to form a tight seal!
All NCHM orders include free Quik Ship Service, and we also offer several expedited shipping options if you're on a tight schedule. All of our premium quality stainless steel doors and frames are custom-built to order, and you can always buy with confidence because your satisfaction is guaranteed!
If you have any questions or would like to receive a quote in two hours or less, contact us online, or give us a call at 800-334-3070.