NCHM Builds Custom STC Doors to Your Specifications!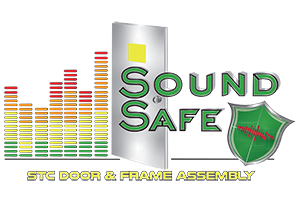 Today's urban environment can be a virtual cacophony of sounds including traffic noise, nearby trains, and aircraft lying ahead. If you have work to get done or if you're holding an important meeting, it's a safe bet that the grounds crew at your office building will choose that exact time to spend several hours mowing the lawn and running gas-powered leaf blowers and weed eaters directly outside your window. And let's not forget how noisy a crowded office building can get from people talking on the phone and holding conversations in the hallways.
The good news is that our team at National Custom Hollow Metal is here to help. We've been America's top supplier of custom-built stainless steel doors and frames for over four decades, and we can build Sound Safe sound transmission control (STC) doors with as high as an STC 51 rating to your exact specifications. Call us today, and we can give you a quote in two hours or less!
STC ratings range from 20 to 60, and they measure a door's noise suppression capabilities. A door with an STC rating of 20 can significantly reduce overall workplace noise, and a door with a rating of 50 or more can make human voices virtually inaudible. Your employees can make as much noise as they want, and you won't be disturbed. Even more importantly, your confidential meetings won't be audible to people wandering by. You won't have to worry about eavesdroppers hearing proprietary information, and can work in peace without being forced to listen to the sounds of traffic or construction noise!
Our STC doors feature a proprietary acoustic core that features cutting-edge noise suppression technology, and we can custom build your doors in your choice of stainless or galvanneal 14 or 16 gauge steel in any size up to 4' x 8'. Our STC doors can be configured as single or pair entry doors and frames all custom built as a complete installation-ready assembly. We offer free Quik Ship service on all orders and expedited shipping options for distributors with tight deadlines. Most importantly, you can always buy with confidence because your satisfaction is guaranteed!
If you have any questions or would like to receive a quote on STC doors in two hours or less, contact us online, or give us a call at 800-334-3070.