NCHM Manufactures Custom Ballistic Doors to Order!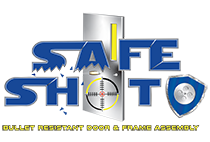 It might seem like a scary movie or a bad dream, but the threat of gun violence is unfortunately very real. If someone gets terminated from a job or passed over for a promotion, they might think that their only choice is to stage a violent ambush to get even. Sometimes it's just a completely random attack that never gets explained at all. The attackers come from all walks of life, and the only thing that they have in common is that they're highly motivated and that they can strike completely unexpectedly and inflict a lot of casualties.
The average response time to a 911 call can be up to ten minutes, which is a lifetime when your business or school is under attack. The average length of incidents involving gun violence is about three seconds. Those numbers aren't in your favor if you're trying to hold off an armed assailant with violent intentions. That's where our team at National Custom Hollow Metal comes in! We can custom build Safe Shot Level 3 Ballistic Doors and Frames to your exact specifications, and they're capable of stopping a .44 magnum round!
Our ballistic doors come available in your choice of 304 or 316 Stainless, or A60 Galvanneal Steel in all standard sizes, as well as custom sizes ranging from 2'0" x 6'8" to 5'0" x 12'0." Our 12 gauge stainless steel frames can be built to a maximum size of 10'0" x 12'0." The doors feature a Reinforced Face Strip with lock sets, panic exits, strikes, and concealed hardware that meet UL 752 labeling requirements.
We offer Quik Ship service on all orders, and expedited shipping options for distributors with tight deadlines. Our Safe Shot Ballistic doors are corrosion-resistant, and all you have to do to maintain their appearance is occasionally wiping them down with water. You'll enjoy the peace of mind that comes with the knowledge that everyone will be protected, and you can always order with confidence because we stand behind all of our products with a 100% satisfaction guarantee.
If you have any questions, or would like to receive a quote in two hours or less, contact us online, or give us a call at 800-334-3070.