Therma Hold Doors And Frames Hold The Line!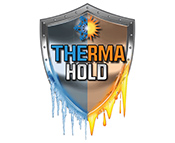 Winter weather is always a serious issue for many businesses, and we've experienced record-breaking cold snaps in recent years. America's "sun belt" region has long been known for having a mild temperate climate, but you can count on having multiple ice storms every winter. America's southwest and west coast have a very arid desert climate, but they too have shown us that no place is safe from freezing temperatures. That's where we come in!
For over four decades, National Custom Hollow Metal has been the USA's top manufacturer of custom-built stainless steel doors and frames. At NCHM, The Difference is Quality, and we're proud to now offer Therma Hold Doors And Frames, which can help you hold the line! Our thermal break frames are primarily utilized in exterior masonry openings found in all types of wall construction, and specified for many different varieties of commercial buildings. Therma Hold doors and frames prevent cold transfer from outside to the inside when you're looking to improve efficiency and comfort and prevent condensation and frost.
Therma Hold doors and frames have a 2-part frame applied to our thermal gasketing and secured every 12" with #8 sheet metal screws. This construction helps to separate both sides of the frame jamb and header along the stop, creating a barrier that prevents temperature transfer from outside to inside. You have your choice of a 3-sided door frame or 4-sided single lite window frame with a 3'0" x 7'0" single frame or 7'0" x 7'0" standard – standard pair frame configuration.
When partnered with NGP thermal thresholds, seals, and sweeps, our Therma Hold door core and thermal break frame will reduce your overall U value and help you decrease your yearly commercial building energy costs. Like all of our doors, our Therma Hold doors and frames are corrosion-resistant and practically maintenance-free.
All orders for Therma Hold doors and frames include Quik Ship delivery, and we offer expedited shipping options for rush jobs. Let us know when you need your doors and frames delivered to the job site, and we're always happy to meet your just-in-time shipping needs!
contact us online or at 800-334-3070 for a quote.