Pocket Doors Are A Great Way To Create Flexible Spaces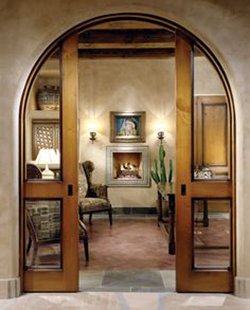 Pocket doors are a great way to get maximum "bang for your buck" at a multiple use facility or event center, because they allow the venue to subdivide a larger space and book multiple events concurrently. But it doesn't stop there! Pocket doors can also be used to close off overflow seating areas at a restaurant during off-peak hours or to close off a storefront in a mall or shopping center. They can be configured to operate as either single or double doors, and you don't have to worry about clearance for opening and closing like standard hinged doors. The doors open and close along a horizontal track and tuck away out of sight into a recessed "pocket" built into the wall. With retail and commercial space at an all-time high, it's easy to understand the value of using every square inch of available sales floor. Pocket door frames are available KD but if you'd like to include the inner wall track they must be welded in our factory.
National Custom Hollow Metal has been the USA's top manufacturer of custom built stainless steel doors and frames for over four decades, and every product that we sell is built to order. In this current culture of social distancing, we anticipate that many industries will need to find creative ways to keep their employees and customers safe. We spend a lot of time familiarizing ourselves with the trends in commercial and industrial development, and will always be happy to help you find ways to use our pocket door products in a business or government office. Our commitment to customer service is second to none, and we can return a quote in two hours or less.
We offer Quik Ship service on all orders, and expedited shipping options for distributors who are working on tight deadlines. Let us know when you will need your doors and frames delivered to the site, and we'll meet your just in time shipping requirements. All of our doors and frames are corrosion resistant, and practically maintenance free. You can also buy with confidence, because we offer a 100% satisfaction guarantee on everything we sell!
Contact us online or at 800-334-3070 for a quote on custom stainless steel doors in two hours or less. At NCHM, The Difference is Quality, and we're standing by any time you have questions!