NCHM Builds Custom Kerf Frames To Help You Beat The Heat!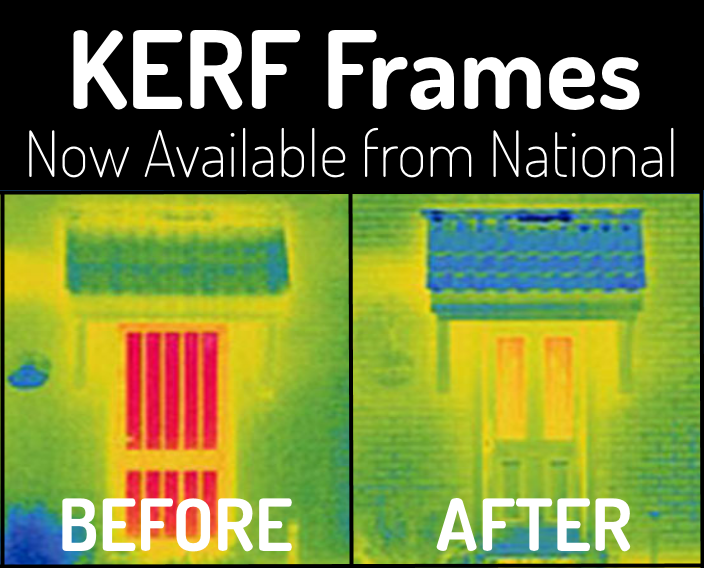 Seasonal weather extremes are a way of life throughout the world, and we pay dearly to stay comfortable. Unfortunately, the utility service costs continue to rise year after year. In many cases, we don't find out that our rates have jumped up until after a major weather event. The utilities are all monopolies, and we don't have the option of taking out business elsewhere.
National Custom Hollow Metal (NCHM) is proud to offer two part kerf frames with interchangeable weather-stripping built to the same high standards that our distributors have been insisting on for over 40 years. All of our premium quality stainless steel doors and frames are custom-built after you place your order, and we offer industry leading turnaround times on all orders.
Conventional adhesive or screw on weather stripping works just fine at first, but it's not really built to last. As people continue to open and close a door, the seals lose their effectiveness and you'll start to feel a draft after the seals experience routine wear and tear reduces its effectiveness. Our custom-manufactured Kerf frames feature durable weather stripping that can be replaced in a matter of seconds with no special tools. The frames feature a 3/32" gap to hold our proprietary Elon 490 kerf foam weather-stripping. As soon as you start to feel a draft, replacement weather stripping is a phone call away.
We typically configure our kerf frames to fit a 3068, 3070, or a 3080 opening, but we can also manufacture the doors in custom sizes to your specifications. The jambs are configured to a 5 ¼" minimum depth for a 1 ¾" door, or a 4 ⅞" minimum depth for a 1 ⅜" door, up to a maximum depth of 20". Our kerf frames can be built from 16, 14, or 12 gauge 304 or 316 Stainless steel or A-60 or G-90 Galvanneal Steel. All NCHM orders include free Quik Ship Service, and we also offer several expedited shipping options to ensure just-in-time delivery to your site.
If you have any questions or would like to receive a quote in two hours or less, contact us online, or give us a call at 800-334-3070.