Interested in Managing Energy Costs? NCHM Builds Kerf Frames to Order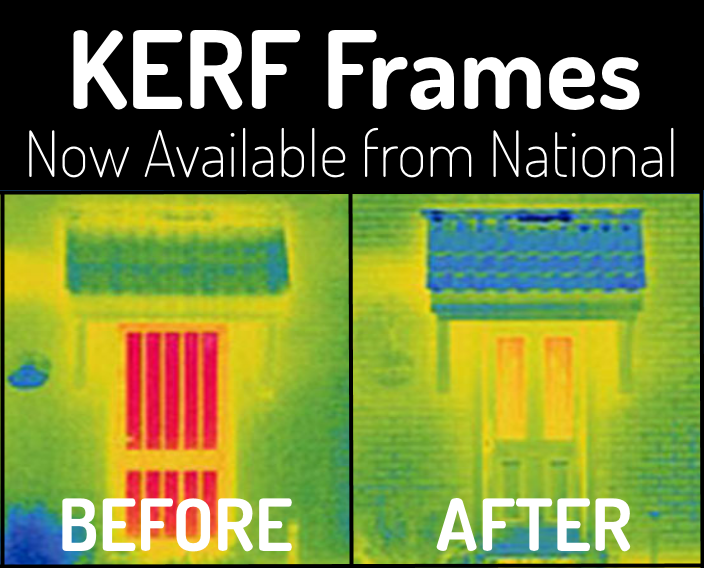 When it comes to heating and cooling costs, it's not a question of if they're going up but how soon and by how much? It all comes down to basic supply and demand. Energy companies can't produce energy quickly enough and we get stuck with higher prices as they struggle to keep up. That's why it's so important to find ways to tighten our belts!
National Custom Hollow Metal offers custom two part kerf frames with interchangeable weather-stripping to help you control airflow in and out of exterior doors. The frames feature a 3/32" frame gap to receive Elon 490 kerf foam weather-stripping, which forms a tight seal around the door to prevent drafts. Unlike conventional adhesive or screw on weather stripping, you can install replacement weather stripping in a matter of seconds. All you have to do is keep an eye on the condition of your weather stripping, and give us a call when you need to order more.
Our kerf frames are most typically configured to fit a 3068, 3070, or a 3080 opening, but can also be manufactured in custom sizes. The jambs are configured to a 5 ¼" minimum depth for a 1 ¾" door, or a 4 ⅞" minimum depth for a 1 ⅜" door, up to a maximum depth of 20". Our kerf frames can be built from 16, 14, or 12 gauge 304 or 316 Stainless steel or A-60 or G-90 Galvanneal Steel. All of our frames are carefully crated and packed for shipment and include Quik Ship service. We also offer expedited shipping options when you're on a tight schedule.
NCHM has been providing premium quality stainless steel doors and frames to distributors for over 40 years, and all of our products are custom-built to your exact specifications right here in the USA. We're a family-owned company and you can always order from NCHM with confidence because we stand behind our products with a 100% satisfaction guarantee!
If you have any questions or would like to receive a quote in two hours or less, contact us online, or give us a call at 800-334-3070.