Struggling with a noisy workplace? NCHM Builds STC Doors to order!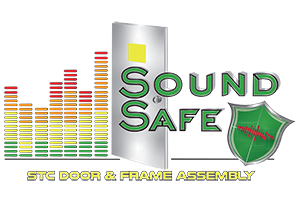 We've gotten so accustomed to noise everywhere we go that we spend all of our time tuning it out or drowning it out with music. Silence is such an unusual thing that many of us even have to use ambient noise or television to help us sleep. What if we told you that we can help you drastically reduce background noise in your office by simply upgrading your doors?
National Custom Hollow Metal has been America's leading manufacturer of custom stainless steel doors and frames for over four decades, and we offer Sound Transmission Control (STC) doors with an STC 51 rating built to order! Our STC doors are custom built in any size up to 4' x 8' in your choice of stainless or galvanneal 14 or 16 gauge steel. Our STC doors can be configured as single or pair entry doors and frames all custom built as a complete installation ready assembly.
The way that our STC doors work is a proprietary acoustic core that features cutting edge noise suppression technology. STC ratings range from 20 to 60 and measure a door's abilities to suppress noise. Doors with an STC rating of 20 can significantly reduce overall workplace noise by filtering out normal conversational speech. Doors with a rating of 50 or more can make loud human voices virtually inaudible. You won't have to worry about people eavesdropping on confidential conversations, and you can have quiet and productive meetings in your conference room while the rest of your team stays busy right outside the door. You'll also experience drastically reduced noise levels from traffic or nearby industrial buildings.
Every NCHM product is built to your exact specifications. We will work with you to give you an accurate quote and get right to work when you're ready. We offer free Quik Ship service on all orders, and you can always buy with confidence because your satisfaction is guaranteed!
If you have any questions or would like to receive a quote on STC doors in two hours or less, contact us online, or give us a call at 800-334-3070.