Worried about gun violence? NCHM Manufactures Custom Ballistic Doors!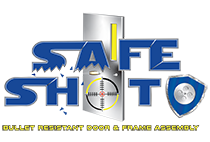 Random gun violence has run so rampant in America that not even a global health crisis has been able to stop it. The worst parts of Covid are now behind us, but now that people are returning to work we have to take another look at our emergency preparedness. The only thing that workplace violence victims seem to have in common is that none of them saw it coming. That's where we come in!
National Custom Hollow Metal has been manufacturing premium quality stainless steel doors and frames for the past four decades. All of our doors and frames are built to order, and we stand behind all of our products with a 100% satisfaction guarantee. We are proud to offer Safe Shot Level 3 Ballistic Doors and Frames capable of stopping a .44 magnum round.
We can custom build ballistic doors in your choice of 304 or 316 Stainless, A40 or A60 Galvanneal Steel, or cold rolled steel in all standard sizes, as well as custom sizes ranging from 2'0" x 6'8" to 5'0" x 12'0." Our 12 gauge stainless steel frames can be built to a maximum size of 10'0" x 12'0." The doors feature a Reinforced Face Strip with lock sets, panic exits, strikes, and concealed hardware that meet UL 752 labeling requirements.
Every NCHM order is subjected to a rigorous multi-point inspection and carefully packed and crated for shipment. We offer Quik Ship service on all orders, and expedited shipping options when you're really in a hurry.
Like all of our doors, our Safe Shot Ballistic doors are corrosion-resistant and could outlast many buildings. All you need to do is occasionally wipe them down with water and they'll look as good as the day they were delivered. Most importantly, you'll enjoy the peace of mind that comes with the knowledge that your employees and customers will be safe if tragedy ever strikes.
If you have any questions, or would like to receive a quote in two hours or less, contact us online, or give us a call at 800-334-3070.