TrustShield Lead-Lined Doors and Frames Offer the Ultimate in Radiation Confinement Technology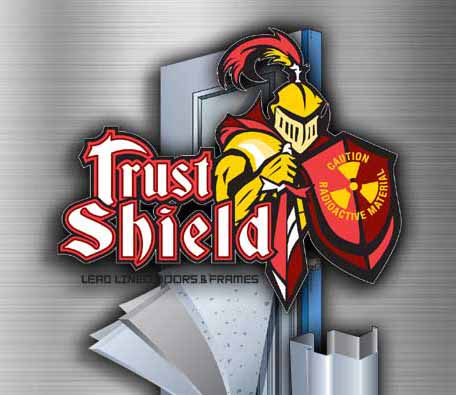 When doctors and health care professionals need to take a look "under the hood," X-Rays and MRIs offer amazing diagnostic capabilities with noninvasive technology. Cancer patients are living longer and happier lives thanks to precisely targeted radiation therapy. The risks to the patients are very minimal, but the technicians who operate this life-saving equipment need to stay protected at all times to avoid the health risks associated with prolonged radiation exposure. That's why it's so important to outfit the exam rooms and procedure rooms with state of the art radiation shielding. That's where we come in!
National Custom Hollow Metal has been building premium quality doors and frames right here in the USA for over four decades, and when it comes to protection from radiation contamination, our TrustShield lead-lined doors and frames offer industry leading performance. All of our doors are custom built to your exact specifications, and shipped on your schedule.
TrustShield Lead Lined doors are custom built with 16, 14 or 12 gauge galvanneal or 16, 14 or 12 gauge stainless steel construction with a continuous sheet of lead from 1/32″ thick up to 1/8″ thick, laminated to the door skin and a sheet of high density polystyrene. The lead sheet extends the full width and height of the door, with the thickness of the lead shielding to be equal to that of the adjacent wall. Lead lined doors can be built at 4′ 10 1/2″ x 12'0″ with 1/16″ lead and 4'10'/2″ x 8'0″ with 1/8″ lead, and all doors have continuous 14 gauge channels installed around the perimeter as reinforcement to ensure years of trouble-free service. TrustShield doors and frames can be manufactured with UL or Warnock-Hersey fire resistance labeling up to 1-1/2 hours with maximum thickness of 3/32″.
At NCHM, The Difference is Quality. Every product that we manufacture is subjected to a multi-point quality inspection before shipping, and we offer standard Quik Ship service on all orders. And if you need your doors more quickly, we also offer expedited shipping. Let us know what you need, and we will ship it on your schedule!
If you have any questions, or would like to receive a quote in two hours or less, contact us online, or give us a call at 800-334-3070.