NCHM offers Safe Shot Level 3 Ballistic Doors and Frames built to order!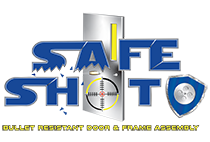 For the past year, the news has been full of stories about the Covid pandemic, and we all owe it to ourselves to stay current with all the regulations and recommendations. Unfortunately, airborne diseases are just one threat for us to consider as managers and business owners. People are frustrated and people are angry all around the world, and most people cope by venting on social media or by being distracted by other activities that they enjoy. But every now and then, some people respond by planning and carrying out a violent ambush. None of their victims ever see it coming, and it makes us all wonder how we would handle ourselves if tragedy strikes.
National Custom Hollow Metal has been manufacturing premium quality stainless steel doors and frames for the past four decades, and we also offer Safe Shot Level 3 Ballistic Doors and Frames capable of stopping a .44 magnum round! Any would-be assailant can huff and puff all he wants to, but he will never get in!
Like all of our products, our ballistic doors and frames are always built to your exact specifications after you place your order. We don't mass produce our doors and let them sit on pallets in a warehouse for months, and will make sure that you have the doors you need when you need them. Our ballistic doors are available in your choice of 304 or 316 Stainless, A40 or A60 Galvanneal Steel, or cold rolled steel in all standard sizes, as well as custom sizes ranging from 2'0" x 6'8" to 5'0" x 12'0." We can also build custom 12 gauge stainless steel frames to a maximum size of 10'0" x 12'0." They're as beautiful as they are tough, corrosion resistant, and practically maintenance free!
All of our orders come with our signature Quik Ship service, and we also offer expedited shipping when you're in a hurry. At NCHM, The Difference is Quality, and your satisfaction is always guaranteed!
If you have any questions, or would like to receive a quote in two hours or less, contact us online, or give us a call at 800-334-3070.