Worried about Gun Crime? Ballistic Doors from NCHM are just what the Doctor Ordered!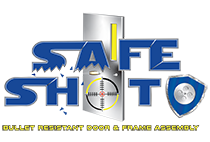 We already had a major problem with gun crime in America to begin with, but the current overcharged political climate has tempers flaring everywhere. Insurrectionists have recently staged an organized assault on the US Capitol Building, and the experts warn that this could merely be the first of many such attacks. Like the old saying goes, "It's not paranoia if they're really after you!"
National Custom Hollow Metal has been manufacturing premium quality stainless steel doors and frames for the past four decades, and every one of our custom-built doors is guaranteed to outlast the building in which it is installed. But perhaps it's no longer enough to simply discourage people from trying to jimmy a lock and steal whatever they think they can sell. Perhaps you need to also be prepared for an armed and highly motivated assailant intending to use a firearm to attack your business with lethal force. That's why we offer custom built Level 3 Ballistic Doors and Frames, which are capable of stopping a .44 magnum round! We can manufacture and ship Ballistic Doors and Frames to you in a matter of days, and you can enjoy the peace of mind that comes from knowing you and your employees are protected.
All of our doors and frames are built to your exact specifications by the most experienced professionals in the industry. You have your choice of 304 or 316 Stainless, A40 or A60 Galvanneal Steel, or cold rolled steel in all standard sizes, as well as custom sizes ranging from 2'0" x 6'8" to 5'0" x 12'0." We can also build custom 12 gauge stainless steel frames to a maximum size of 10'0" x 12'0." They're as beautiful as they are tough, corrosion resistant, and practically maintenance free!
NCHM offers Quik Ship service on all orders at no additional charge, and expedited shipping options if you're facing a deadline.At NCHM, The Difference is Quality, and we stand behind all of our products with a 100% satisfaction guarantee!
If you have any questions, or would like to receive a rapid quote, contact us online, or give us a call at 800-334-3070.