Worried about noise pollution? NCHM offers custom STC Doors!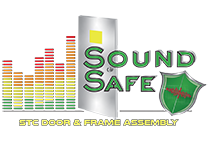 The modern workplace is definitely prone to a lot of noise. Between conversations, office machines, and the traffic outside, it's challenging to keep the noise down. Some people are better at tuning the noise out than others, but noise pollution can definitely impact the productivity of office workers!
The good news is that National Custom Hollow Metal is here to help! We offer Sound Transmission Control (STC) doors with an STC 51 rating to control excess noise in the workplace. STC doors are rated on a scale ranging from 20 to 60, which rates the abilities to suppress excess noise. Doors with an STC rating of 20 can reduce the sounds of normal speech, and doors with a rating of 50 or more can make loud voices virtually inaudible.
Our STC doors are custom built in any size up to 4' x 9', and are available with your choice of stainless or galvanneal 14 or 16 gauge steel. We currently offer single entry doors and frames built to order as a complete assembly that's installation ready, and they feature a proprietary acoustic core with state-of-the-art noise suppression technology. Your employees will no longer be forced to deal with noise pollution, and you won't have to worry about people eavesdropping during confidential meetings. And like all of our products, our STC doors are tough, and practically maintenance free. All that you will ever have to do is occasionally wipe them down with water to maintain a factory new appearance.
All of our stainless steel doors are built to order, and we offer lightning fast shipping. Quik Ship service is standard with every order, and if you're really in a hurry, we also offer expedited shipping options. Most importantly, your satisfaction is always guaranteed! We know that reputations take a lifetime to earn, and for the past 4 decades, we've protected ours at all costs!
If you have any questions, or would like to receive a rapid quote on STC doors, contact us online, or at 800-334-3070.