For your safety, NCHM offers custom made Safe Shot ballistic doors!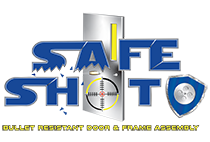 Even though most people are basically good, there are far too many instances involving heavily armed gunmen entering schools, churches, and other businesses and inflicting mass casualties before the police get a chance to respond. Sometimes they're disgruntled employees, and sometimes they're just people that are mad at the world. But the only thing that they really have in common is that they're highly motivated, and they have the element of surprise.
The good news is that these random shooters are no match for businesses that are prepared. National Custom Hollow Metal has been manufacturing premium quality stainless steel doors and frames for the past 4 decades, and we now manufacture and distribute custom Level 3 ballistic doors, which are capable of stopping a .44 magnum round! They can huff and puff all they want to, but they won't get in!
Like all of our products, our ballistic doors are all built to order for our clients. Our hollow metal doors and frames are manufactured in-house by the most experienced professionals in the industry, and are available in 304 or 316 Stainless, A40 or A60 Galvanneal Steel, or cold rolled steel in all standard sizes, as well as custom sizes ranging from 2'0" x 6'8" to 5'0" x 12'0." We can also build custom 12 gauge stainless steel frames to a maximum size of 10'0" x 12'0." And even though they are strong and durable, they won't make your business look like a prison. Our Ballistic doors are attractive, corrosion resistant, and easy to maintain. All that you have to do to maintain their appearance is to occasionally wipe them down with water.
At NCHM, fast shipping is standard. All orders receive Quik Ship service, and if you're under tight deadlines, we also offer expedited shipping options. Most importantly, we stand behind all of our products with a 100% satisfaction guarantee!
If you have any questions, or would like to receive a rapid quote, contact us online, or give us a call at 800-334-3070.