When it comes to stainless steel doors and frames, you can't go wrong with DefendDoor!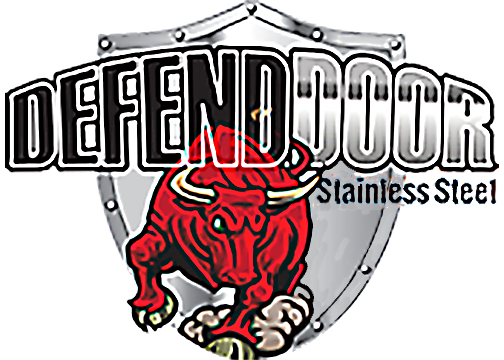 National Custom Hollow Metal is America's leading stainless steel door manufacturer and we've been proud to partner with distributors for over four decades to provide custom-built hollow metal frames and doors. Everything that we manufacture and ship is built to order, and our clients never have to take a chance with mass-produced products manufactured in a factory overseas.
We offer several quality product lines, including our TrustShield lead-lined doors and frames, Safe Shot ballistic doors, Sound Safe STC doors, and pocket doors. Our team will work with you to select the right products for your job, and ship them on your schedule. If you're looking for a great all-purpose door, you can't go wrong with DefendDoor, our most popular product line. They're as attractive as they are durable, and we guarantee that they will outlast any building in which they are installed!
DefendDoor Doors can be manufactured in sizes up to 4′ 10 1/4 wide and 12'0" high in either 304 or 316 #4 finish, and frames up to 10'0" wide and 12'0" high. We offer polystyrene, honeycomb, or vertically stiffened cores, as well as 20 minute, 45 minute, 90 minute, and three hour Warnock-Hersey fire door labeling. The doors are all internally reinforced with continuous 16 gauge stainless steel rails that span the entire height of the door on both the hinge and lock stiles, and across the top and the bottom. We also mortise and reinforce our doors with 7-gauge hinge reinforcements, and include 16-gauge box-type lock reinforcements. We also enclose the complete unit with 14-gauge steel, perimeter channels, spot-welded at 8″ on center to guarantee a finished look. All DefendDoor products are corrosion-resistant, and practically maintenance free. All that you have to do to maintain their factory new appearance is an occasional rinse with water.
We also offer the quickest turnaround times in the business, and will make sure that your doors are shipped to the job site on your schedule. We offer free Quik Ship service. You'll have your frames shipped in two weeks, and your doors in three weeks. And if you're on a really tight schedule, be sure to inquire about our Hot Rush and Walk Thru service!
If you have any questions, or would like to receive a rapid quote on doors and frames, contact us online, or give us a call at 800-334-3070.