Looking to increase the size of your retail sales floor? NCHM offers custom pocket doors!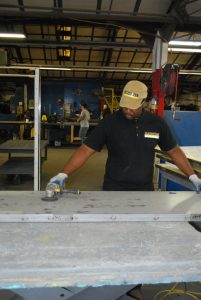 Retailers operating in malls and shopping centers have always faced many serious challenges when faced with meeting all of the fixed costs of maintaining a "brick and mortar" operation. Leasing retail space in a prime location is expensive, and the more space that you have, the more that you have to pay for your utilities and other expenses. Not to mention that conventional retailers are facing increased competition from online sellers. That's why it's so important for retailers to find ways to squeeze every bit of revenue potential out of the square footage that they have at all times!
National Custom Hollow Metal is proud to be the leading hollow metal frames manufacturer in the USA, and our wholesale custom steel doors are always built to order: We don't mass produce inventory and store it on pallets until someone orders it. We've been manufacturing and shipping premium custom metal doors for over four decades and counting, and are always a phone call away when you have any questions.
Pocket doors are simply doors that open and close along a horizontal track and, when opened, tuck away out of sight in a recessed "pocket" built into the wall. They used to be a common feature in older homes, and they are a great way to allow for additional floor space near the doorway, since the doors require no clearance for opening and closing like standard hinged doors. They can be configured to operate as either single or double doors, and allow you to open up your retail space during business hours, and secure your store after closing.
Like all of our stainless steel products, your pocket doors will be custom built to your exact specifications by the most talented craft professionals in the business. We offer Quik Ship service on all orders, and expedited shipping options on all orders. Most importantly, all of our doors and frames are durable, corrosion resistant, and backed by a 100% satisfaction guarantee!
If you have any questions, or would like a rapid quote, Contact us online , or at 800-334-3070.