Want to keep your employees and customers safe? NCHM offers ballistic doors!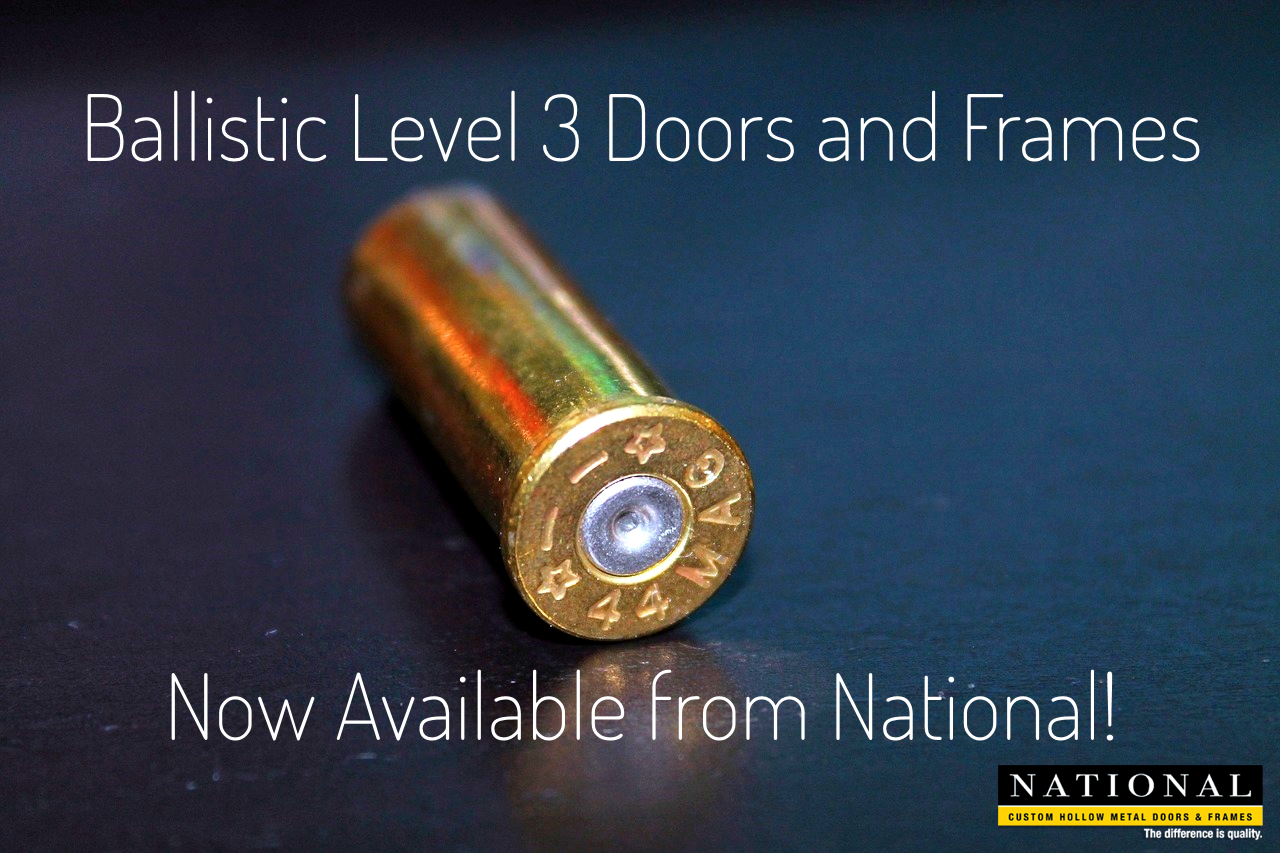 It seems like hardly a week goes by without a news story about angry gunmen going on random shooting sprees. Their targets include schools, businesses, churches, and shopping centers, and they can frequently inflict large amounts of casualties long before the police have time to react. The only thing that the shooters seem to have in common is that they are all highly motivated, and the only thing that the victims have in common is that they never expected it to happen to them.
Your likelihood of being targeted for a large scale criminal rampage is very slim, but are you prepared to stake the lives of your employees and customers on that? Fortunately, you don't have to! Our team at National Custom Hollow Metal has been manufacturing premium quality stainless steel doors and frames for the past 4 decades, and we now manufacture and distribute custom Level 3 ballistic doors, which are capable of stopping a .44 magnum round!
Like all of our products, our ballistic doors are all built to order for our clients. Our hollow metal doors and frames are manufactured in-house by the most experienced professionals in the industry, and you'll never have to worry about a mass-produced product that's been sitting on a pallet in a warehouse for months. Our ballistic doors are available in 304 or 316 Stainless, A40 or A60 Galvanneal Steel, or cold rolled steel in all standard sizes, as well as custom sizes ranging from 2'0" x 6'8" to 5'0" x 12'0." We can also build custom 12 gauge stainless steel frames to a maximum size of 10'0" x 12'0." They're attractive, corrosion resistant, and easy to maintain.
There's an old saying about how "it's not paranoia if they're really after you." This shouldn't suggest that we have to go through our lives being afraid of a random attack, but we can all agree that the world has become a much more dangerous place. That's why ballistic doors are such a great investment. An armed attacker is no match for a business that's been properly secured, and we're always a phone call away when you're ready to get your order started!
If you have any questions, or would like to receive a rapid quote, contact us online, or give us a call at 800-334-3070.