TrustShield continues to lead the industry in radiation confinement technology!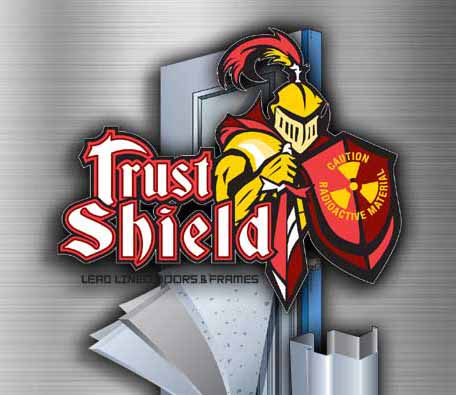 Nuclear medicine is definitely one of the most important developments in modern healthcare. X-Rays have been in use since the turn of the 20th century, and radiation therapy is a powerful weapon against cancer and certain other medical conditions. It does present certain risks to the patient, but those risks are outweighed by the diagnostic and/or treatment benefits of limited exposure. On the other hand, the healthcare professionals that routinely administer those treatments need to be protected from incidental radiation exposure. This is typically facilitated through lead-lined aprons, walls, and door frames, and radiation shielding doors.
National Custom Hollow Metal is proud to offer TrustShield lead-lined doors and frames, which are the industry leader in radiation confinement! Each door and frame is subjected to a multi-point inspection to ensure that each one meets the most stringent industry standards for radiation shielding, and meet any additional labeling requirements.TrustShield Lead Lined doors are available in 16, 14 or 12 gauge galvanneal or 16, 14 or 12 gauge stainless steel, and feature a continuous sheet of lead from 1/32″ thick up to 1/8″ thick, laminated to the door skin and a sheet of high density polystyrene. The lead lining extends the full width and height of the door, with the thickness of the lead shielding to be equal to that of the adjacent wall. Lead lined doors can be built at 4′ 10 1/2″ ​x ​12'0″ with ​1/16″ lead and 4'10'/2″ ​ x ​8'0″ with 1/8″ lead, and all doors have continuous 14 gauge channels installed around the perimeter.
When you order from NCHM, custom is standard. All of our products are manufactured to our clients' exact specifications, and you'll never receive mass-produced products that sat on a pallet in a warehouse for months (or years). All orders receive free Quik Ship service, and we also offer expedited shipping options for our clients that are on tight deadlines. All of our products are locally manufactured by the most skilled craftsmen in the business, and at NCHM, we're not satisfied until you are!
If you have any questions, or would like to receive a rapid quote, contact us online, or give us a call at 800-334-3070.