You can always place your trust in TrustShield!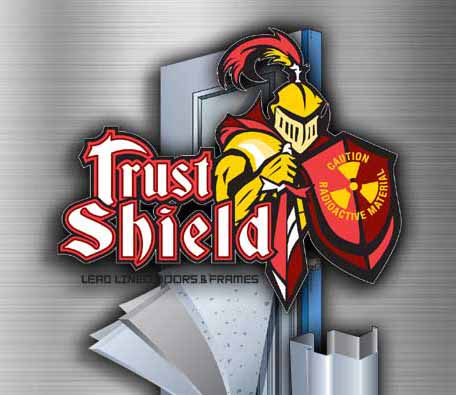 Nuclear medicine is an important diagnostic tool in the healthcare industry, and it enables physicians to perform thorough, noninvasive exams. It is also a very effective weapon in cancer treatment. X-Ray and Gamma ray imaging are generally safe for patients, but it can create long-term health risks for technicians who are exposed on a routine basis. That's why it's so important to make sure that they're protected with proper radiation shielding.
National Custom Hollow Metal is proud to partner with distributors to manufacture and ship a wide selection of quality door frames and products, and our TrustShield lead-lined doors and frames offer the ultimate protection from radiation contamination. Each door and frame is built to order, and subjected to a multi-point inspection process to ensure that they meets the most rigorous standards for durability, reliability, and radiation shielding.
TrustShield Lead Lined doors are available in 16, 14 or 12 gauge galvanneal or 16, 14 or 12 gauge stainless steel construction with a continuous sheet of lead from 1/32″ thick up to 1/8″ thick, laminated to the door skin and a sheet of high density polystyrene. The lead sheet extends the full width and height of the door, with the thickness of the lead shielding to be equal to that of the adjacent wall. Lead lined doors can be built at 4′ 10 1/2″ ​x ​12'0″ with ​1/16″ lead and 4'10'/2″ ​ x ​8'0″ with 1/8″ lead, and all doors have continuous 14 gauge channels installed around the perimeter as reinforcement to ensure years of trouble-free service. TrustShield doors and frames can be manufactured with UL or Warnock-Hersey fire resistance labeling up to 1-1/2 hours with maximum thickness of 3/32″.
We offer industry-leading turnaround times on all of our products, and all orders receive our signature Quik Ship service. And if you're really in a hurry, we also offer expedited shipping options, and can have your doors and frames delivered in a matter of days!
Most importantly, we stand behind all of our products with a 100% satisfaction guarantee! All of our doors and frames are custom-built by the most skilled craftsmen in the industry, and every member of our team is committed to providing legendary customer service!
If you have any questions, or would like a free estimate, contact us online, or at 800-334-3070.