Three Reasons Why Stainless Steel Doors and Frames are a great investment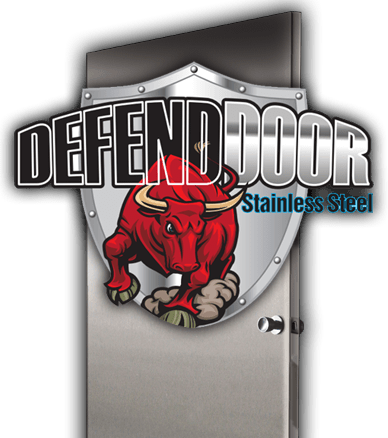 In commercial construction, it's always important to insist on quality materials. The small savings that you might gain from cheap materials can often cost you more down the road, and you owe it to your clients to make sure that their facilities are built to last!
National Custom Hollow Metal has been partnering with distributors for the past four decades to manufacture and ship premium stainless steel doors and frames. Every product that we sell is manufactured in the USA, and built to your exact specifications. We offer industry leading turnaround time on all orders, and expedited shipping options that can accommodate even the tightest deadlines. Fiberglass (FRP) doors might seem like a bargain, but we strongly recommend investing in DefendDoor stainless steel doors and frames for the following reasons:
Strength and Physical security-All of our stainless steel doors are internally reinforced with continuous 16 gauge stainless steel rails that span the entire height of the door on both the hinge and lock stiles, as well as across the top and the bottom. The doors are also reinforced our doors with 7-gauge hinge reinforcements, and 16-gauge box-type lock reinforcements. Every Defendoor product also offers superior performance over time compared FRP doors.
Unparalleled flexibility-FRP doors are molded to fit standard parameters, and are not typically available in custom sizes. On the other hand, stainless steel doors and frames can be produced in any size in 1/16 increments. We can manufacture doors up to 5'0" width and 12'0" height in either 304 or 316 #4 finish, and frames up to 10'0" width and 12'0" height. You also have your choice of polystyrene, honeycomb, or vertically stiffened core, and 20 minute, 45 minute, 90 minute, and three hour Warnock-Hersey fire door labeling is available. If you can dream it, we can craft it! Our Stainless steel doors are also available for STC and Ballistic openings.
Aesthetics-Let's not forget that stainless steel doors also look great! The industrial look is always popular, and stainless steel doors are very effective at visually separating production spaces. They're also corrosion-resistant, and easy to maintain. All that you'll ever need to keep them looking factory new is to occasionally wipe them down with water!
If you have any questions, or would like a free estimate, contact us online, or at 800-334-3070.