Ballistic Doors offer the ultimate in protection for your clients!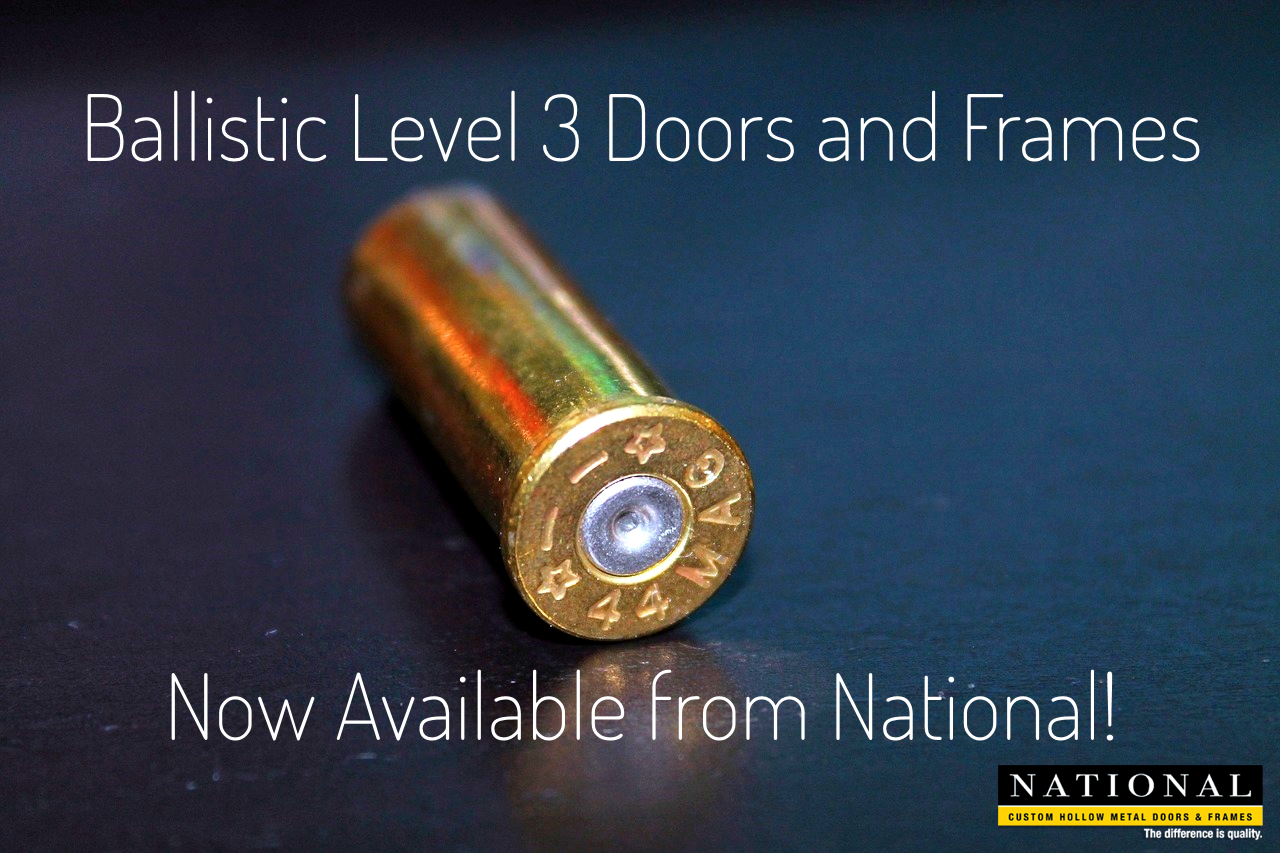 In spite of all of the technological and cultural progress that we've made as a society, one of our harshest realities is that there are far too many incidents involving seemingly normal individuals surprising everyone that they know with unexpected violent behavior. People of all ages, backgrounds, and nationalities have engaged in large scale criminal rampages, and the only thing that they really have in common is the element of surprise. These individuals also have the ability to hurt a lot of people before emergency responders arrive on the scene. In addition to the standard fire and tornado drills routinely performed at schools and government offices, lockdown procedure drills are also becoming increasingly common.
Your odds of being subject to attack are very small, but when it comes to the safety of your employees and clients, you owe it to yourself to always be prepared for the worst. That's why National Custom Hollow Metal now manufactures and distributes custom Level 3 ballistic doors, which are capable of stopping a .44 magnum round!
Our ballistic doors are available in your choice of 304 or 316 Stainless, A40 or A60 Galvanneal Steel, or cold rolled steel in all standard sizes, as well as custom sizes ranging from 2'0" x 6'8" to 5'0" x 12'0." We can also build custom 12 gauge frames to a maximum size of 10'0" x12'0." Our ballistic doors are as attractive as they are durable, and corrosion resistant. In fact, the only long term maintenance that they'll ever require is an occasional rinse with warm, soapy water.
There seems to be no end in sight for news stories involving criminals going on sudden, violent rampages, but they're no match for businesses and organizations that take a proactive approach to keeping their employees and visitors safe and secure. All of our ballistic doors are manufactured in-house by the most experienced professionals in the industry, and, at NCHM, our commitment to providing legendary customer service is second to none!
If you have any questions, or would like a rapid quote, contact us online, or at 800-334-3070.