NCHM Now Offers Ballistic Doors!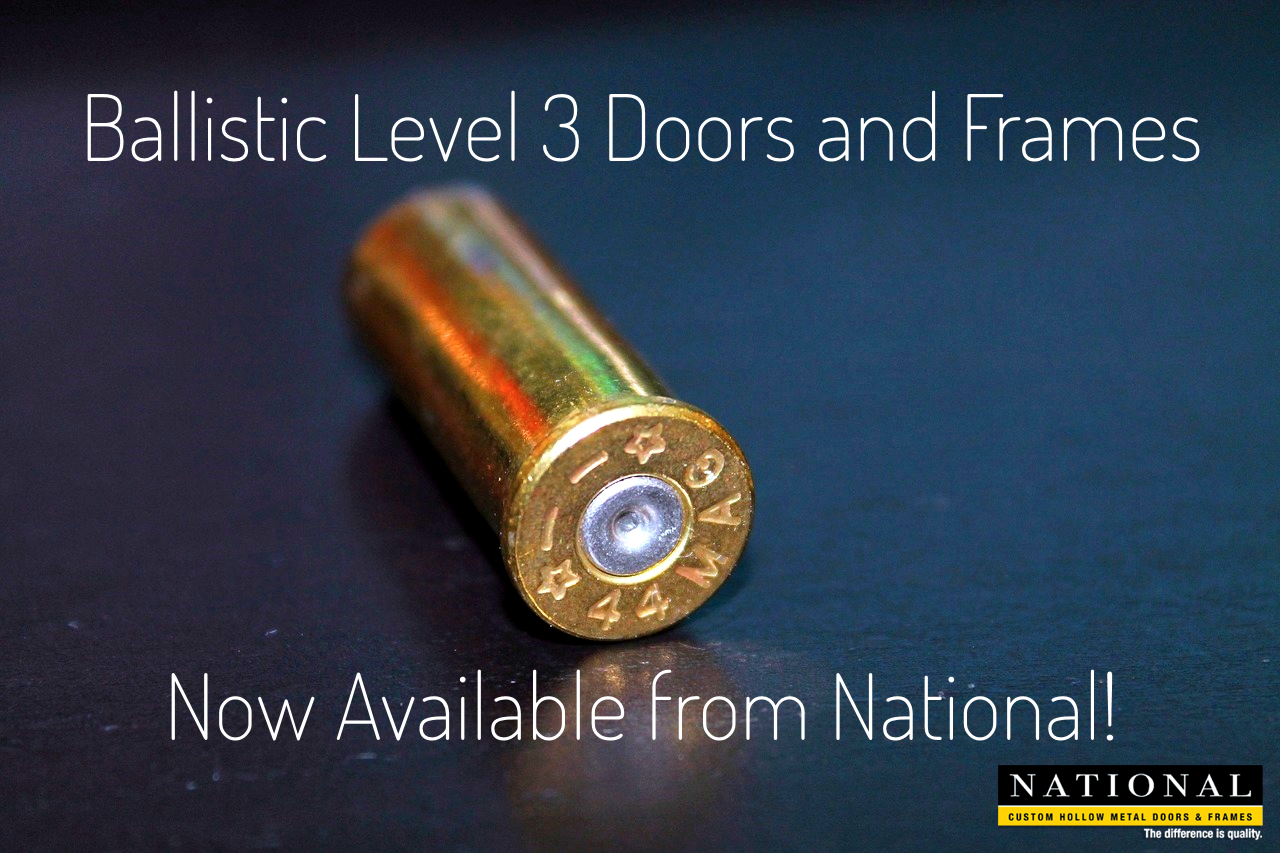 Over the past several years, the news has been filled with stories of armed gunmen attacking schools, government offices, shopping centers, and even movie theaters. These attacks are quick and unexpected, and have often resulted in mass casualties before police and other emergency personnel have had time to respond. Active shooter drills have now become as standard as fire and tornado drills for most schools and government offices, and all of us want to do whatever it takes to stay safe when disaster strikes.
For the past four decades, National Custom Hollow Metal has been partnering with distributors to provide premium quality stainless steel doors built to order, and our reputation for superior craftsmanship and lightning fast turnaround times on all orders is second to none. We're also proud to announce that we now offer level 3 ballistic doors and frames that are capable of stopping .44 Magnum bullets! Here's a quick look at the features of our ballistic doors and frames:
Custom sizing and materials for doors and frames-Our ballistic door products are available in your choice of A40 or A60 Galvanneal Steel, 304 or 316 Stainless Steel, or cold rolled steel in custom sizes ranging from 2'0" x 6'8" to 5'0" x 12'0," and we can build custom 12 gauge frames to a maximum size of 12'0" x12'0." The doors feature a rigid polystyrene core in 1 Lb. density bonded to both door skins.
Reinforced frames-Our ballistic frames feature a welded-in 16 Gauge reinforced face strip on the threat side, located in header and both jambs from the floor up. We offer jamb depths ranging from 3" through 14," and your choice of continuous weld or KD to weld continuously in the field.
Hardware specifications-In order to have full benefits of the doors' safety features, all certified lock sets, panic, fire exit, strike and concealed hardware must meet the UL 752 rating. Allowable surface applied hardware mounting holes must be completely filled with fasteners, but UL 752 certification is not required.
If you have any questions, or would like to receive a rapid quote, contact us online, or give us a call at 800-334-3070.