When it comes to radiation confinement, you can trust TrustShield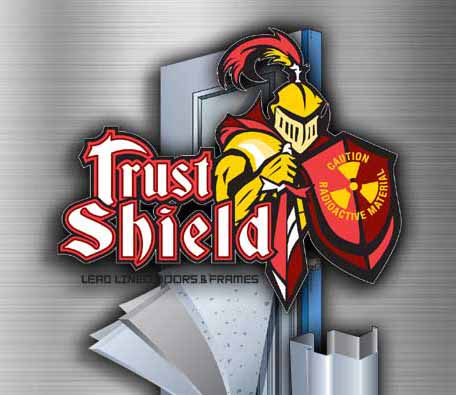 Professionals working in nuclear medicine spend many hours each day in close proximity to machines that emit harmful radiation. Although any given individual exposure may be low, the cumulative effects over time can be lethal without proper protection. Lead lining is used in work aprons and smocks, in radiation shielding doors, door frames, and walls, to create a barrier that will absorb all of the incidental radiation and protect medical professionals.
Doors and frames must fit precisely to avoid leakage, which is why the medical professionals we trust to care for our health trust TrustShield™ brand doors and frames from National Custom Hollow Metal to safeguard theirs on the job. At NCHM, every TrustShield door and frame we manufacture is built to precise tolerances by the finest craftsmen in the industry. Each door is subjected to a multi-point inspection process to ensure that each one meets the most stringent industry requirements for durability, reliability, and radiation shielding properties.
Our TrustShield Lead Lined doors are available in 16, 14 or 12 gauge galvanneal or 16, 14 or 12 gauge stainless steel construction with a continuous sheet of lead from 1/32″ thick up to 1/8″ thick, laminated to the door skin and a sheet of high density polystyrene. The lead sheet extends the full width and height of the door, with the thickness of the lead shielding to be equal to that of the adjacent wall. Lead lined doors can be built at 4′ 10 1/2″ ​x ​12'0″ with ​1/16″ lead and 4'10'/2″ ​ x ​8'0″ with 1/8″ lead, and all doors have continuous 14 gauge channels installed around the perimeter as reinforcement to ensure years of trouble-free service.
If you need doors onsite quickly, NCHM has you covered with the shortest lead time requirements in the industry. Our standard service will have most orders completed in 10 working days for lead-lined frames and 15 working days for lead-lined doors. If you need them sooner, ask for HotRush service to your order completed in as little as three working days, or WalkThru service to have your order completed in one working day. When time is not on your side, no one can have your order for lead-lined doors and frames faster than NCHM.
For the quality difference, call NCHM today at (800) 334-3070 or contact us online at this link for a quick quote on your order.