NCHM now carries EOC Anchor Bolts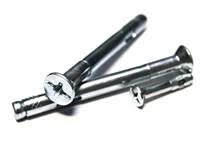 At National Custom Hollow Metal, our specialty is custom-building stainless steel doors and frames to our clients' exact specifications, and shipping every order on time. We stand behind all of our products, and take a lot of pride in our reputation for providing legendary customer service, and generating repeat business. But we never rest on our laurels, and are always looking for ways to provide additional services to our clients. And when our clients mentioned how much trouble that they had obtaining Existing Opening Countersunk (EOC) anchor bolts, we listened!
EOC anchor Bolts are designed to go into a countersunk hole in the frame into an existing opening block wall to anchor door frames. We carry both 3/8" x 4" expansion Bolts and #14 wood screws in stainless steel, and we keep them in stock so that you'll have one less hardware item to look for when you place your order.
EOC Anchor Bolts aren't a product that you can easily find at your local hardware store or home improvement warehouse, and as any distributor will tell you, ordering them is a challenging proposition at best. Most bolt companies are based overseas, and force you to buy in bulk, with anywhere from an 8 week to a 6 month lead time. But we have partnered with a local supplier who buys in bulk, and that helps us to make sure that the bolts are available when our clients need them. Any time that we need to restock, it takes us a week or less.
At NCHM, we always strive to partner with our clients to make their lives a little bit easier, and to offer one-stop shopping for all the materials that our distributors need to order and install our premium stainless steel door products. You'll never find a more customer-focused company in the business, and we're a phone call or mouse click away any time that you have any questions, or need to place an order.
For more information, contact us online, or at (800) 334-3070.