When We say the Difference is Quality, It's More Than Just a Sign on the Wall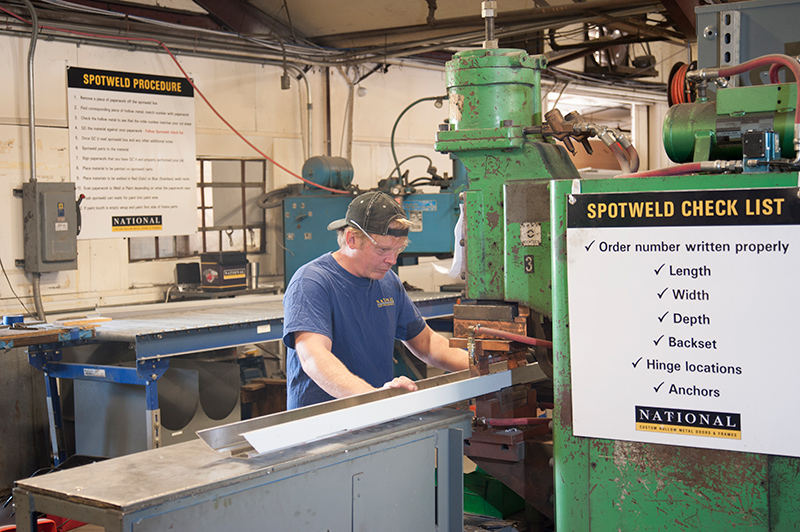 When it comes to your construction clients, you know that they need quality building materials delivered to the job site when they are needed. Coming up short creates delays for the contractors and headaches for you. But your clients also need quality components that fit like they should, and are built to last. As the distributor, you know your clients.
Here at National Custom Hollow Metal, we know metal doors and frames, how to build them and how to get them to where they're needed, when they're needed. At NCHM, we build the quality doors and door frames you've come to know and trust under the DefendDoor® and TrustShield® names. You also know that we build them to fit right and to function flawlessly year after year after year, often outlasting the buildings in which they are installed.
You also know that we like to expand our horizons as your custom door manufacturer, offering our line of economical Galvanneal steel doors in standard sizes and custom sizes made to order, as well as stylish six-panel steel doors, and spectacular pocket doors and arched door frames for use where space is at a premium or when a unique and time-honored style is desired.
For those times when a short lead time is crucial, NCHM is known for moving into high gear when you say it's crunch time, to the point that our standard time needed for order completion is only two to four weeks, depending on the size of the order and the product line.
If our Quik Ship service isn't fast enough, Hot Rush is always an option to have most orders completed and on their way in as little as one or two days in many cases, and rarely more than five working days for DefendDoor stainless steel doors. If you really can't wait, our specialized Walk Thru service will expedite the process to ensure your contractors have what they need from us completed and ready to ship in just one working day.
No matter which service you request, we build your order to the same uncompromising specifications for strength and durability. Because at NCHM, "The Difference is Quality" isn't just our motto. It's our mission.
To experience the quality difference, contact NCHM online, or give us a call at (800) 334-3070 and you'll soon know why all of our clients feel like Number One!