NCHM Partners with Simonswerk North America!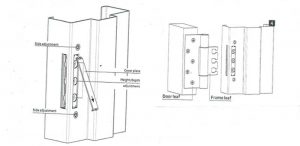 National Custom Hollow Metal is excited to announce a new partnership with Simonswerk North America! We have developed specially prepared hollow metal frames that are designed to accept the adjustable Simonswerk Variant VX hinge in primed galvaneal as well as 304 and 316 stainless steel for commercial doors. This new 3-way adjustable hinge and frame combination will allow for adjusting the door opening with precision and reduce precious time spent on installation.
Variant VX hinges have been used successfully in Europe for many years in high traffic areas such as schools, hospitals and airports, and we're proud to make them available to our distributors. The major advantage of installing 3-way adjustable hinges is having the flexibility to adjust doors horizontally, vertically and in/out by +/- 1/8" with an Allen wrench. This gives the installer the ability to easily meet precise installation requirements, and gives the user the ability to compensate for door sagging and structural settling. Variant VX hinges can be installed in fire-rated doors, and carry a 3 hour UL rating.
To see this exciting development in person, we invite you to visit us at Booth # 714 at the DHI Connections Show in Phoenix, Arizona May 10-11, 2017. And if you have any additional questions, contact us online at any time, or give us a call at 1-800-334-3070.