If Your Custom Metal Door Order is Giving Your Manufacturer Fits, Call NCHM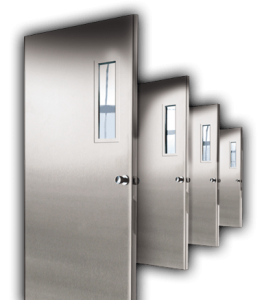 As a distributor, you know that much of your success depends on your ability to deliver materials to your clients on time, which is why it's crucial to partner with a dependable manufacturer. You need someone who will deliver the custom hollow metal doors that you need when you need them, without a bunch of excuses.
At National Custom Hollow Metal, we manufacture the premium quality doors that you need to your exact specifications with the fastest turnaround times in the industry.When you need stainless steel fire rated doors, lead-lined doors, or pocket doors, in standard or custom sizes we're just a phone call away. Don't have time to wait? At NCHM, fast is standard, and if you're really in a hurry, we also offer expedited service to have your order headed your way in a matter of days, not weeks.
Here's a quick look at two of our most popular product lines:
DEFENDDOOR Stainless Steel Doors and Frames – When you need the very best in stainless steel doors and frames, you can't go wrong with DefendDoor! DefendDoor products are available in custom sizes up to 4' 10-¼" wide and 12' high. You also have your choice of 304 or 316 #4 finish and 16, 14, or 12 gauge thickness. DefendDoor products are available with polystyrene, honeycomb and vertically stiffened cores, as well as Underwriter's Laboratories or Warnock-Hersey 20, 45, 90, or 180 minute fire resistance labeling.
TrustShield Lead-Lined Doors and Frames – In the healthcare profession, it's important to protect technicians who work with radiation on a daily basis. TrustShield lead-lined doors and frames exceed all of the healthcare industry's highest standards for radiation confinement. TrustShield frames can be custom-built in any size up to 10′ x 12,' and doors are available in any size up to 5′ x 12′ and 1-⅜" thickness, and include a thick lead lining 1/32″ to 1/8″ thick that extends the full width and height of the door.
When you need quality doors and frames on a tight schedule,make NCHM your first and last call. Our doors are manufactured by the best craftsmen in the industry, and you can always buy with confidence, because we offer a 100% satisfaction guarantee on all orders. Contact us online here for a free estimate or give us a call at (800) 334-3070 if you have any questions.