For Durability There's Only One Choice-Steel!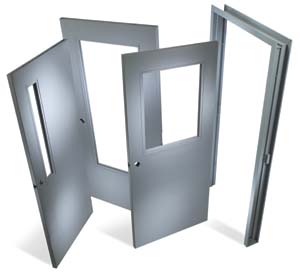 When it comes to commercial and industrial construction, there's no doubt about it: steel doors are a must. Steel is far more durable and more secure than wood, it's easier to maintain, and it looks great.
If you're looking for a dependable steel door manufacturer, you need look no further than National Custom Hollow Metal. We're proud to be the leading manufacturer of top quality custom made steel doors in North America, and our team is always ready to manufacture and deliver the doors and frames that you need! Here's a closer look at a couple of our most popular product lines:
DEFENDDOOR Stainless steel doors and frames – DefendDoor is our most popular brand, and can be built to order in any size up to 4' 10-¼" wide and 12' high. All DefendDoor products are available in 16, 14, or 12 gauge thickness in either 304 or 316 #4 finish. The doors have 14 gauge stainless steel vertical reinforcing channels running the full height of the door on both hinge and lock stiles, and the top and bottom of the door is reinforced with a continuous 16 or 14 gauge stainless steel channel. DefendDoor doors and frames are available with Underwriter's Laboratories or Warnock-Hersey 20, 45, 90, or 180 minute fire resistance labeling.
Galvanneal Doors and Frames – Our DP Series Galvaneal doors are available in 18, 16, 14, or 12 gauge steel in 1-¾" and 1-⅜" standard thicknesses, as well as custom thicknesses to order. The DP Series doors are available in all standard sizes, and can be manufactured in custom sizes up to 4′ 10 ½" in width and 12′-0" in height .Each door has a self-extinguishing polystyrene core between cold-rolled or galvanized steel facings, which offers fire protection and creates a superior barrier to heat and cold. These doors are also available with UL and Warnock-Hershey fire resistance labeling.
National Custom Hollow Metal is a family-owned business, and our products are affordable, built to last, and shipped on your schedule!! Contact us online today for your rapid quote, or give us a call at at (800) 334-3070 if you have any questions.