For Protection From Radiation Exposure, Medical Professionals Trust TrustShield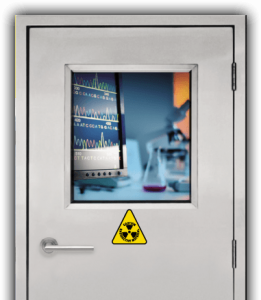 Nuclear medicine involves using radiation in many important ways, including X-rays, CT scans, and radiation therapy. The risk to patients is relatively low, because they're typically only exposed a few times, but for the technicians, it's a different story. That's why medical facilities require lead lined doors and frames that consistently meet (and exceed) the healthcare industry's highest standards for radiation confinement.
National Custom Hollow Metal is proud to manufacture TrustShield lead-lined hollow metal doors and lead-lined door frames, the preferred choice for the healthcare industry. Here are a few of the reasons why our clients place their trust in TrustShield:
TrustShield products are built to order
All TrustShield doors and frames are built to order in any size up to 5′ x 12′ and 1-⅜" thickness, and are available in 16, 14 or 12 gauge galvanneal or 16 and 14 gauge stainless steel. TrustShield frames can be custom-built in any size up to 10′ x 12,' and all doors include a thick lead lining 1/32″ to 1/8″ thick that extends the full width and height of the door.
TrustShield products are delivered on your schedule
We offer Quik Ship service on all orders, and can manufacture and deliver doors in 15 business days, and frames in 10 business days. But if that's not quick enough, we also offer expedited shipping. With Hot Rush service, you can have doors and frames in three business days.
TrustShield products are durable
TrustShield doors and frames don't just look good: they're tough! Custom built from galvanneal or stainless steel, our doors and frames will stand up to many years of service, even in the most demanding hospital environments.
When it comes to meeting (and exceeding) the high standards of the healthcare industry, TrustShield lead-lined doors and frames are always up to the challenge! All TrustShield products are manufactured to your exact specifications in our Little Rock factory, and are backed with an unconditional 100% satisfaction guarantee! Start your order here, or give us a call at (800) 334-3070 if you have any questions.