Where Durability and Corrosion Resistance is Spec'd, DefendDoor is the Quality Choice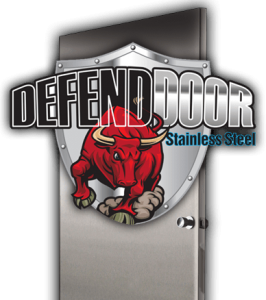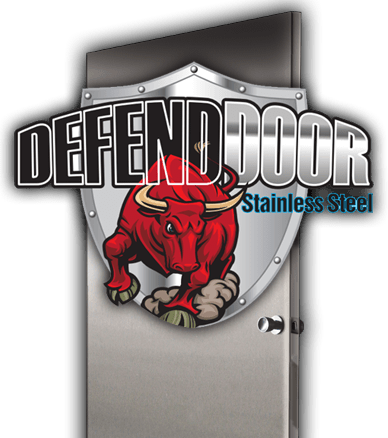 For strength and durability, nothing else comes close to steel doors and frames in building construction. And when specifications call for strength, durability, AND the ability to withstand corrosion, the only clear choice is stainless steel; doors, frames, and hardware together for uncompromising quality that lasts for years.
When it comes to stainless steel doors and stainless steel door frames, DefendDoor® from National Custom Hollow Metal stands above the rest. At NCHM, our goal is simple; to build the strongest, most durable and longest lasting doors and frames available, and to get them to your customer quickly.
Crafted from face sheets of 16 or 14 gauge type 304 or 316 in No. 3, 4, or 2b finish stainless steel, every DefendDoor comes with full-length 16 or 14 gauge stainless steel vertical reinforcing channels on both hinge and lock stiles. The top and bottom are reinforced with a continuous 16 or 14 gauge stainless steel channel and both the hinge and lock edges are fully welded and all welds are grounded and polished for a smooth finish.
DefendDoor® products are available in standard and custom sizes up to 4' 10-1/4" wide and 12' 0" high, and for fire resistant applications, many can be ordered with UL or Warnock-Hersey fire resistance labeling of 20, 45, 90, or 180 minutes.
Built to withstand years of the most punishing environments, these doors are especially suited for use where corrosion is a concern. If you need doors for a coastal environment or where they'll be subjected to cleaning with corrosive agents that will turn regular steel products to mush within a few months, DefendDoor® is the name to remember.
If you need them delivered quickly, DefendDoor® is still the name to remember.
To get doors delivered within a two to four week time frame, all you have to do is place the order and leave the rest to us. It's called Quik Ship and it's standard with every order.
If time is of the essence, ask for our exclusive Hot Rush service, and we'll have most orders out in as little as three working days for frames and five working days for doors.
And for those times when time has run out and you need those doors delivered yesterday, don't give up, just call us. What other manufactures call impossible, we call Walk Thru service, and you can only get it at NCHM.
Call us today at 800-334-3070 or contact us online for more information at this link. When you need quality stainless steel doors and frames and you need them fast, NCHM is the one to call.