At NCHM the Difference Really IS Quality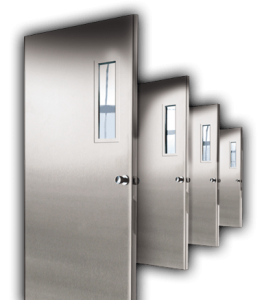 When you're looking for custom, quick ship or "HOT RUSH" premium hollow metal doors and frames, you owe it to your clients to insist on nothing less than perfection. Your manufacturer has to be able to build doors and frames to your exact specifications, deliver them on time and damage free.
Our team at National Custom Hollow Metal has been manufacturing custom hollow metal doors and frames for four decades and counting, and we owe our success to in large part to our loyal customers who, through their repeat business, consistently count on us. We've always believed in listening to our clients, and standing behind our work. Here's a look at a few of our most popular products:
DefendDoor Stainless Steel doors and frames
DefendDoor, our most popular product line, is available with custom built doors up to 4'10 1/4" wide and 12'0" high in either 304 or 316 #4 finish.Custom built frames are available up to 10'0" wide and 12'0" high.. Many DefendDoor products are available with 20 minute, 45 minute, 90 minute, and three hour WH (Warnock-Hersey) or UL (Underwriters Labs) fire door labeling.
TrustShield lead lined doors and frames
TrustShield offers the best radiation confinement in the industry, and can be built to order in any size up to 5′ x 12′ in 16, 14 or 12 gauge galvanneal or 16, 14 and 12 gauge stainless steel. TrustShield lead-lined frames can be built to order in any size up to 10′ x 12,' and all doors and frames are available with Underwriters' Laboratories and Warnock-Hersey fire rating labeling.
Pocket and arched door frames
Sometimes floor space and wall space is at a premium for places like dining rooms, bathrooms, and kitchens. Our pocket door frames offer a solution that's clean, elegant, modern, and easy to operate.
No matter what door or frame products you order, at NCHM, fast is standard, and we offer industry leading turnaround times on all orders. And if time's really an issue, we offer expedited shipping options, and can deliver certain products as soon as the next business day. And, most importantly, all of our products are 100% guaranteed! Contact us at this link, or give us a call at (800) 334-3070 if you have any questions!