Whatever the Builder Needs, We've Got it!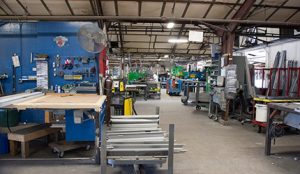 As a distributor, the last thing you need are problems in the supply chain, with a builder on one end of the line telling you he needs his order at the jobsite yesterday, and the manufacturer on the other line telling you it will be there in two weeks (or maybe longer). When the builder needs doors, frames, or hardware for installation, National Custom Hollow Metal doesn't make you or your customers wait.
NCHM was built on a level of quality and customer service that stands as the gold standard in the metal door and door frame industry, a level that we are proud to uphold to this day.
When you need it strong, the NCHM DefendDoor line of stainless steel, hollow metal doors, and the TrustShield line of lead-lined metal doors stand as our flagship models for unparalleled durability and quality.
When you need it fast, and we mean fast, when nothing less will do, NCHM can prepare your order and have it ready to ship within one business day. Ask for Walk Thru service and we'll have your order started almost before you can hang up the phone. If it's less urgent and you can work within at two to five day window, ask for Hot Rush service and, depending on your order and quantity, we can have your doors and frames on their way to you in five days or less.
Most orders don't have to be there that fast, but even our standard lead time, called Quik Ship, isn't exactly slow. Most orders, depending upon configuration and quantity, can be completed and shipped in four weeks or less, sometimes much less.
No matter how quickly you need them, every door and frame we build is made to the most exacting specifications, made to last, and regardless of what model (or models) you order; we stock precision hardware for dead-on alignment and rugged durability.
When you need the best, whether it's right now or four weeks from now, the only call you need to make is to NCHM at 800-334-3070, or contact us online at this link. At NCHM, the difference is quality.