Three Reasons Why You Should Choose DefendDoor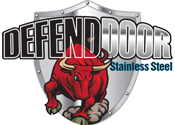 When you're looking for custom stainless steel doors and frames, you can't go wrong with DefendDoor! DefendDoor products are our most popular product line, and for good reason: They're durable, attractive, and easy to maintain!
If you have any questions about DefendDoor products, our team of engineers at National Custom Hollow Metal are a phone call away. We've enjoyed a lot of repeat and referral business over the years, and we're ready to make you our next satisfied customer! Here are a just a few of the reasons why our clients love DefendDoor stainless steel doors and frames:
All DefendDoor products are built to order
If you can dream it, we can craft it! We can custom build the doors that you want in up to 5'0" width and 12'0" height in either 304 or 316 #4 finish, and frames up to 10'0" width and 12'0" height. DefendDoor products are available with 20 minute, 45 minute, 90 minute, and three hour Warnock-Hersey fire door labeling. You also have your choice of polystyrene, honeycomb, or vertically stiffened cores.
All DefendDoor products are delivered on your schedule
At NCHM, fast is standard! Once you place your order, you can expect your DefendDoor products to be delivered in 2-4 weeks. If that's not fast enough, we also offer several expedited shipping options. With Hot Rush service, you can have doors in five days, and frames in three days.
All DefendDoor products are practically maintenance-free
You can count on every DefendDoor product to outlast the building in which it's installed! DefendDoor Stainless steel doors and frames resist rust and oxidation, and never have to be painted. All you have to do to maintain your doors and frames is to occasionally wipe them down with water, and they'll look like they were just installed!
You owe yourself and your clients the best, which is why you should always insist on DefendDoor! All DefendDoor products are built to order by the most talented craftsmen in the business, and come with a 100% satisfaction guarantee! Click here for a free quote, or give us a call at (800) 334-3070.