Trust Shield – Lead Lined Hollow Metal Doors and Frames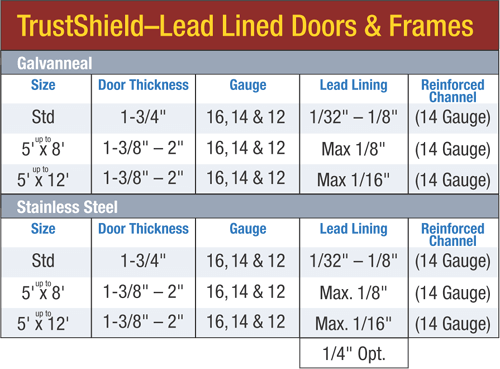 TrustShield doors and frames are available in galvanneal and stainless steel construction in a variety of lining thicknesses.
A continuous lead sheet, equal to the shielding thickness in adjacent walls, covers the full width and height of the component. Top and bottom channels are welded into place for additional strength and stability. Top and intermediate pivots are drilled and tapped at the factory to ensure accurate alignment when attached in the field. During installation, bottom pivot requires supplementary adjustment and must be drilled and tapped in the field by the contractor.
The cavity is insulated with high-density, energy efficient polystyrene and/or reinforced with steel stiffeners.
Standard TrustShield doors up to 5′ x 8′ contain a 1/8″ lead lining. Doors over 5′ x 8′ and up to 5′ x 12′ contain a 1/16″ lead lining. The entire perimeter of larger doors are reinforced with a continuous 14-gauge channel and/or prepared for specific hardware required for larger applications.
A Warnock Hersey (1-1/2 hour) fire-rating label is available with TrustShield doors, which are 1-3/4″ thick and contain a 3/32″ maximum lead lining. Upon request, a fire rated door is available with an optional window cut out and frame kit that has a maximum visibility of 100 square inches.
TrustShield frames up to 10′ x 8′ contain a 1/8″ lead lining. Frames over 10′ x 8′ contain a 1/16″ lead lining. 1/4″ lead lining is optional.